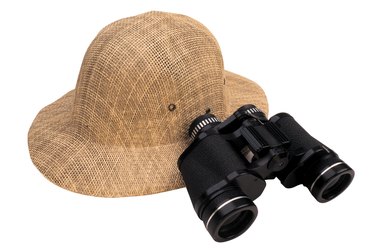 Whether you want to dress like a big-game hunter or a traveler on a camera safari, you can assemble an easy, no-sew safari costume from clothing you already own. When it's time to accessorize the costume, look for safari-style gear at sporting-goods, military-supply and thrift stores. As you assemble your costume, keep the color palette neutral. Real safari-goers know that khaki and beige blend in with the colors of the savanna and hide them from the local wildlife.
Pants, Socks and Boots
If you have a pair of khakis in your closet, you have the foundation for an easy safari costume. Casual khaki pants do the job, but khaki-colored cargo pants or shorts look even more at home on the African plain. Their pockets give you plenty of storage for props and personal gear. Sturdy boots are also a necessity. If you're dressing like a modern-day safari guide, tuck your pants into a pair of lace-up hiking boots. Wear a pair of long white or neutral-colored socks with your boots if you use shorts for your costume. To create a safari costume with an old-fashioned feel, tuck khaki pants into knee-high leather boots so they look like jodhpurs.
Shirt, Vest and Jacket
For the top half of your costume, choose pieces that mimic the look of safari wear. If you own or can borrow a hunting or fishing vest, wear it over a white or beige button-down cotton shirt. You can also substitute a khaki jacket from a thrift store for the vest. To create classic safari style, wear a long, buttoned khaki shirt with pockets, and let the hem hang over your pants. If you want to create a layered look, wear a T-shirt under the buttoned shirt. Stick to white and neutral colors for the T-shirt. On a real safari, black or bright colors would attract wildlife and pesky insects.
Safari Accessories
A safari guide's accessories are more about function than fashion. A hat provides protection from the savanna's sun and heat. Wear a replica pith helmet from a costume store or substitute another wide-brimmed hat, such as a leather cowboy hat, a khaki-colored rain hat or a straw gardening hat. Tie a neutral-colored cotton scarf or bandanna around your neck to shield your skin from dust and the sun. Wear a utility belt made from leather or nylon webbing to hold your gear. If your shirt is tucked into your pants or shorts, thread the belt through the belt loops. If you wear a long shirt that hangs outside your pants, cinch the belt around your waist over the shirt.
Safari Gear
The savanna can be a dangerous place, and a safari-goer must be prepared for every eventuality. Wear binoculars around your neck so you can watch out for approaching animals. Water is scarce on the plains; carry a canteen on your utility belt. Rope can get you out of all sorts of safari snafus. Sling a coil of hemp rope over your shoulder or hang it from your belt. If you have old maps, roll them up and tuck them into your pockets or a small canvas backpack. Put the compartments of your cargo pants and utility belt to work and fill them with small safari essentials, such as a compass, flashlight and pocket knife.