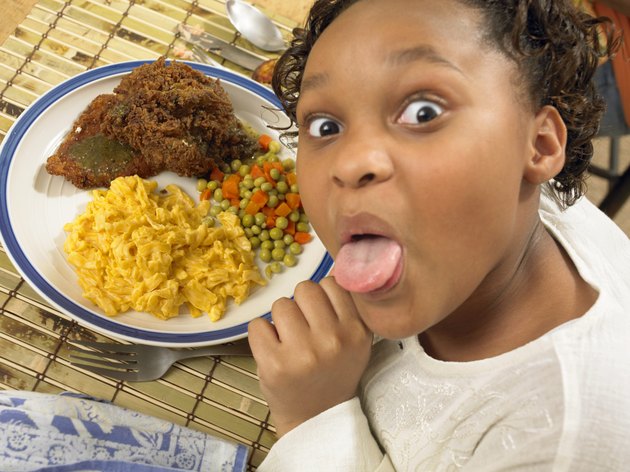 Americans love macaroni and cheese whether as a side dish or a main course. There are hundreds of mac and cheese recipes with each cook believing his recipe to be somehow more special and the better than the pack's. In truth, macaroni and cheese is a very simple dish that you can master and the adjust its basic ingredients to create your very own best recipe.
Select Your Noodle
Use traditional elbow macaroni, although different cooks have their preferences for using some variant of Italian pasta types such as Penne or even Rigatoni. Cook the pasta according to package directions in heavily salted water. Adhere to timing directions for al dente doneness as mac and cheese, once assembled, will need to cook in the oven an additional 45 minutes to an hour. Drain pasta well in a colander after cooking to remove as much water from the pasta as possible.
Say Cheese Please
Determine the kind of cheese you'll put in your mac and cheese, since cheese is the most important part of the dish. Include sharp cheddar cheese as it is the preferred cheese in most recipes. Select among other cheese varieties as long as it has good melting quality. Mix several types of cheese to create a depth of cheese flavor. Adding two or more cheeses is becoming more common in mac and cheese recipes. One cook adds seven cheeses to her award-winning mac and cheese sold in her Chicago restaurant.
Try adding provolone, mozzarella, Asiago, and even the cheese-product, Velvetta. Grate or shred or cut cheese into smaller chunks before adding it to the cooled pasta. Depending on the amount of pasta used, add anywhere from one pound or more of cheese.
For an eight-ounce box of elbow macaroni, add a minimum of four cups (two pounds) of cheese. Consider adding a can of undiluted cheddar cheese soup to your mac and cheese to pack even more cheesy goodness into this cheese lover's dish.
Other Essential Ingredients
Add at least one stick of butter, cut in small dice and distribute it throughout the pasta. Don't substitute margarine or any low-fat butter clones. Go for the real thing here.
Add enough whole milk to completely cover the pasta and cheese in the baking dish. Beat three eggs in a separate bowl and stir into the pasta and cheese. Add two teaspoons of salt, which is very important to the taste of mac and cheese and about one teaspoon of freshly ground pepper. Bake at 350-degrees Fahrenheit until bubbly and brown on top about one hour. Check after 45 minutes.