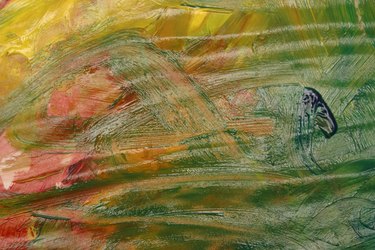 Using leftover art supplies and items from the kitchen, you can make your own fabric paints at home in multiple colors. There is no need to spend money at the craft store trying to get every color possible to paint with. All these fabric paint recipes require simple steps and the paint dries quickly on fabric. These recipes are also non toxic.
Fabric Block Printing Paint
Mix two tablespoons of vinegar, one tablespoon of dish washing liquid, five tablespoons turpentine and one tablespoon of wintergreen oil in a bottle. Shake well after mixing. Slowly add oil pigment to the bottle, about eight ounces should do, and mix until you get a creamy and thick consistency. Using a palette knife, smooth the mixture onto a sheet of plastic or glass.
Using a brayer (a printer's hand inking roller), roll it back and forth across the mixture until the brayer is fully and evenly coated and the mixture is tacky. Take the brayer and roll it on a carved fabric block. Now press the block onto the fabric. Put a damp cloth on your fabric after done printing. Take a hot iron and press the cloth down. Hand wash the fabric with warm water and mild soap.
Simple Fabric Paint with Glue
Take regular white glue and put small amounts into bottles. Take different colored powdered drink mixes or food coloring and mix them in with the glue bottles. Make sure the colors are well mixed with the glue. Squeeze your fabric paint onto to the fabric you wish to paint. Your designs will be puffy when dry.
Milk Fabric Paint
In a bowl, mix together one cup luke warm water and one part non-fat powdered milk until milk dissolves. Put equal amounts of mixture into bottles or containers. Mix in different colored tempura powders to each container. Use immediately after mixing as paint dries quickly.