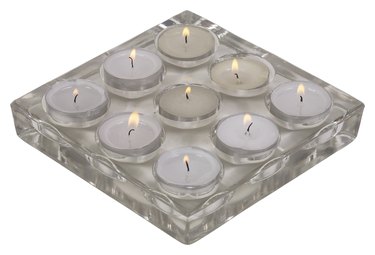 Tea lights are small, round candles that are low and have a burn time of several to 10 hours. Because of their small size, tea candles require different conditions to burn them properly and safely. Doing so will ensure that you don't need to worry about accidents so that you can enjoy the beauty of their light in any room of your home.
Safely Burning Tea Light Candles
Purchase appropriately sized holders. Large candle holders can hold tea light candles, but the best option for holding tea light candles are holders made specifically for small candles. These can be found at many stores, from Pier One Imports to WalMart and K-Mart, and can even be found at many grocery stores. Appropriately sized candle holders will keep the tea lights from moving around while burning and, as a result, will provide a safe burning environment.
Keep the wick trimmed. Even though a tea light candle is smaller than a normal candle, it still can burn for a long time, and as it burns, the wick will become long. A long wick leads to a larger flame, which is more hazardous than a small flame, and a large flame burns the candle faster. Maintain a short wick length by trimming the wick with a pair of scissors every couple of hours. The wick should never be more than a half-inch long.
Keep the tea light candles away from flammable objects. The best way to maintain a safe burning environment for tea light candles is to keep the candle away from any flammable objects. Do not place the candle near curtains or other fabrics, and never place the candle beneath anything that can catch on fire. Avoid placing a tealight candle on top of a plastic surface, even if it is in a holder, because the heat can cause a fire. Keep the candle in an open space and you will enjoy many hours from the tea light candles and will keep your home safe.