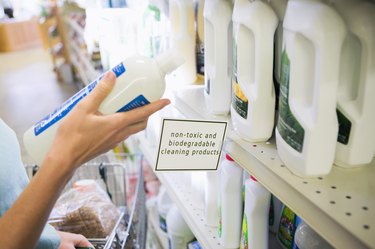 There are a number of holiday decorations and home decor crafts you can make with liquid starch. Finger paint, mummy hands, snowflakes and decoupage projects are just a few of these crafts. Spend an afternoon using liquid starch and create one or all of these simple projects. Liquid starch crafts are kid-friendly and fun.
Snowflakes, Finger Paint and Decoupage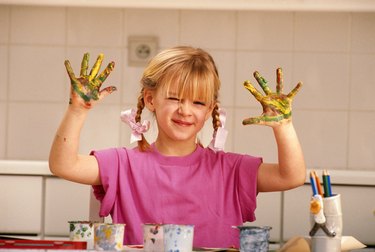 Liquid starch can be messy, especially if kids are involved. Before beginning your project, cover a table in old newspaper or with a plastic tablecloth.
Making finger paint with liquid starch is simple. In a plastic bowl, mix together 1/4 cup liquid laundry starch and 2 drops of food coloring (you can substitute 1 tsp of tempera paint). Blend the ingredients together and start painting.
Decoupage is another craft where you can use liquid starch. While decoupage glue is often hard to clean from walls and furniture, liquid starch does the job just as well and cleans up easily. Gather some wallpaper scraps, cut out designs and use the liquid starch to apply the cutouts to furniture or walls.
Liquid starch snowflakes are easy and fun to create. Gather some old cloth doilies and lay them on a flat surface. Make sure you've spread plenty of plastic or newspaper underneath. Use a paintbrush and brush the liquid starch onto the doilies. Don't dilute the liquid starch. Once both sides are coated in the starch, allow them to dry overnight. The next day cover the doilies with a towel and gently iron. Tie some string to the doilies and hang them for some winter wonderland decor.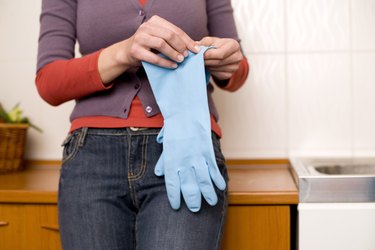 The mummy hand is a perfect addition to a candy bowl, ready to grab anyone walking by.
Fill a rubber glove with tissues to give it shape. Cut strips of floral wire and push into each of the fingers. The wire will allow you to pose your hand. Stuff an old soup can into the glove.
Bend the mummy's fingers before adding the strips. Cut an old white T-shirt into 6-inch to 12-inch strips. Soak the strips in about 1 cup of liquid starch. Taking one strip at a time, squeeze out the excess starch and begin wrapping your mummy's hand.
The fingers can be a bit challenging. It's easiest to take a shorter strip and begin at the base of each finger. Bring the strip up and over the tip before you begin wrapping the finger, beginning at the base.
Once you've wrapped the entire hand, allow it to dry overnight. Feel free to roll the hand in some dirt to give it that "authentic" look.