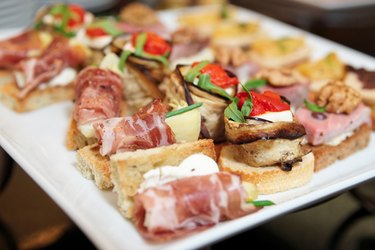 In Spanish cuisine, small plates are called tapas and usually served on their own to accompany a glass of sherry. In other words, they're not used as appetizers, to open a meal, but stand alone or combined as a snack or light meal. If you want to add Spanish flavor to an American-style meal, of course, tapas-like dishes can certainly do the trick -- they also work well as cocktail bites for a party.
Charcuterie and Cheese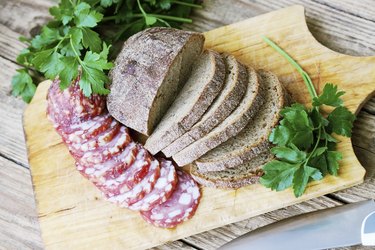 Prepare a Spanish version of a charcuterie plate with some slices of dry Spanish-style chorizo and some serrano ham. You could also serve a platter of Spanish cheeses such as Manchego and Idiazabal. Accompany either of these -- or both -- with a selection of olives, fresh fruit such as grapes and figs, and dried fruit such as dates.
A Cold Seafood Platter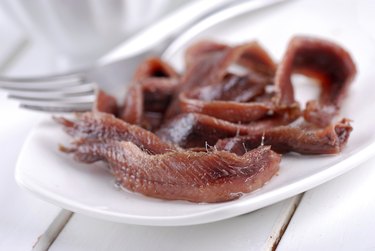 Spain produces some of the finest canned and preserved seafood in the world -- much of which can turn easily into elegant but simple appetizers. Place on a platter a selection of shellfish such as mussels, clams and cockles, along with anchovies, canned tuna, mackerel or sardines. Scatter jarred capers over the platter and drizzle with a thread of olive oil.
Cold Tapas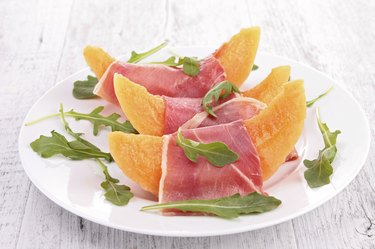 Cold tapas are among the simplest of Spanish dishes to assemble and serve. Marinate mushrooms in olive oil and garlic. Serve fat stalks of white asparagus wrapped in thin slices of ham. Boiled potatoes tossed with a garlic mayonnaise are a common item on tapas menus. Another option is assembling small open-faced sandwiches on slices of baguette. Try a slice of ham and a cube of melon on bread, or a roasted red pepper plus a single anchovy. When skewered with a toothpick, these appetizers are often called pintxos.
Hot Tapas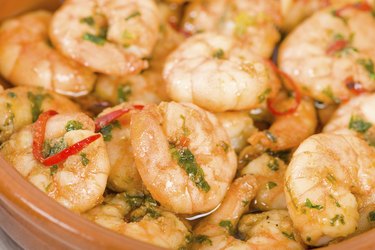 Hot tapas take a little more work in the kitchen but feel more substantial than cold tapas. They don't have to be complicated; try stuffing a halved date with a bite of chorizo or a dab of goat cheese, then wrap the date in bacon, stick it on a skewer, and broil until browned. Saute padron peppers in olive oil, sprinkle with salt, and serve; for a variation, add slivers of prosciutto and fresh mint. Shrimp in garlic sauce, or gambas al ajillo, is a classic tapas that consists of fresh shrimp cooked quickly with garlic, red pepper and olive oil. Saute chicken livers with shallots, grapes and a splash of sherry for another simple but satisfying appetizer.
Banderillas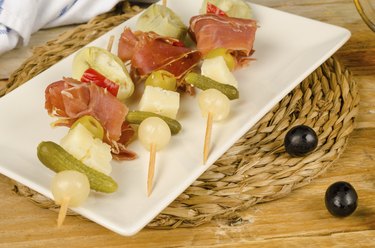 Banderillas, named after the colorful lances featured in bullfighting, are bite-sized appetizers served on toothpicks or skewers. Olives, slices of roasted red pepper, rolled anchovies, cooked shrimps, chunks of canned tuna, pickled pearl onions, slivers of Spanish ham or chorizo, marinated artichoke hearts, hard-boiled quail eggs and gherkin chunks can be used to assemble the banderillas. Choose only two or three to use at a time; the combinations of ingredients are nearly limitless.