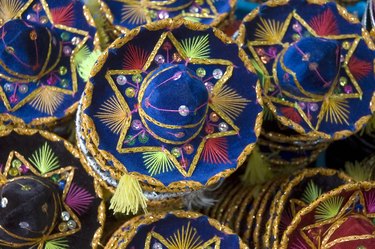 Dress in traditional Mexican clothing or in a Mexican-inspired outfit at a Mexican fiesta, whether you're attending an event on Cinco de Mayo or simply celebrating all things Mexican. Don't worry about complete authenticity in your clothing; almost any attire works as long as it captures the lively and vibrant spirit of Mexican culture.
Patriotic Colors of Mexico
The green, white and red colors in the Mexican flag bring color and a festive spirit to outfits for both men and women. Wear skirts, pants or blouses in the flag colors, or simply accent your clothing with scarves around your waist or neck. For example, wear a red skirt and a white blouse with a bright green scarf at your waist and a white gardenia in your hair. Or, find fabric with all the colors intermingled and sew a Mexican-inspired dress or skirt.
Bright Colors and Fabrics
Writing for "Real Simple" magazine, staff writer Sara Quessenberry says you can't go overboard with bright colors at a Mexican fiesta. Think of a multicolored pinata or serape when choosing an outfit, and try to get as much hot pink, lime, purple, canary yellow and lipstick red into your outfit as you can. A draped serape or a striped, serape-type fabric works for men, while women can wear a flowing dress printed with an assortment of large, colorful flowers.
Mexican Peasant Clothing
An embroidered Mexican peasant blouse, dress or shirt, also called a "guayabera," gives your outfit an authentic and festive feel. The blouses are typically loosely draped, with gathers and puffy sleeves, or large collars. Choose any color, from white to orange to black, with embroidery all over the outfit or just at the edges. Repurpose a blouse you already own by adding colorful graphic appliques that resemble embroidery you can remove after the party.
Celebration Accessories
Both men and women's outfits look even more festive with add-ons such as hats and sombreros in bright colors, or studded with sequins and glittery designs; embroidered sashes and belts; or a pair of mariachis hanging over the shoulder, affixed with ribbon or leather. Accessories for women include fiesta pins in the shape of butterflies, flowers or small mariachis, and halos or head wreaths made with bright, paper flowers and streamers dangling from the back.