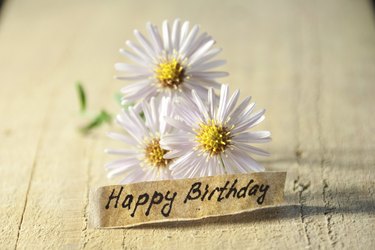 How you word a birthday invitation sets the mood for the celebration. A funny invitation is appropriate for a relaxed evening filled with games and laughter, while a formal invitation is appropriate for a sit-down dinner with champagne. Tailor your invitation to suit the person whose life you're celebrating, as well as the theme of the party.
Invitation Wording Ideas
Keep it simple with an invitation using phrases like "Please join us to celebrate Dinah's birthday," or "We'd love to have your company as we join in celebrating Joseph's birthday." Make it whimsical by rhyming -- for example, "There will be food, there will be fun as Mary Whitehouse turns 21," or "Tip your glass, raise a cheer, Mary's finally 21 this year!" Announce a formal celebration with a reserved and classy invitation like, "Please join us in honoring Dave Smith's life as he turns 45 this weekend," or "We cordially request your presence at the Piano Bar and Grille as we celebrate John's 58th birthday." Make a child's birthday invitation fun with "Lots of cake, lots of fun; our little darling is turning 1!" or "Samantha is turning 8! Come along and celebrate!"
Don't Forget the Details
Clever wording isn't the only important aspect of a birthday invitation. Include the time, date and destination for the party. If the party has a specific theme you'd like guests to participate in, mention it. Also specify if the party has conditions, such as being gift-free or creating no waste. Include your contact information so those invited can let you know by a certain date if they're available to attend.