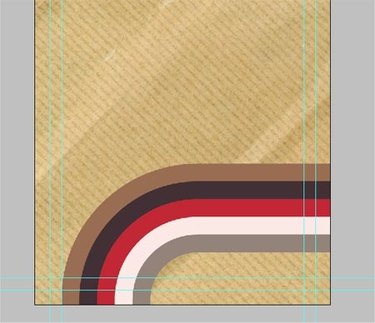 Curved stripes add a geometrical element to a room, creating a contemporary style and feel. Unlike straight stripes, curved stripes are typically kept to a minimum, with one or two highlighting one wall or area in a room. Like straight stripes, these curved stripes require some diligence on behalf of the painter, since mistakes can easily be made.
Template
Unlike straight stripes, a curved stripe or stripes will require a template, unless, of course, you're exceptionally talented with a steady hand and can draw this freehand. Use the old string and pencil trick for drawing your curve. Depending on the size of the curved stripe you want, cut a length of twine and tie it to a pencil. (You may need an extra pair of hands to help with this.) Hold the string end of your line taut and draw a curve with your pencil onto a piece of heavy paper or cardboard. If you like what you see, cut it out and use it as your template.
Base
Almost every wall with any kind of striping has a base color. Paint the base color on your wall first and allow it to dry for a couple of hours before proceeding with drawing your curve. If it requires a second coat, paint that as well, allowing ample time for drying.
Use painter's tape to securely affix your template to the wall. Trace the curve very lightly with a pencil. Carefully peel back the painter's tape and remove the template from the wall.
Paint
Using an artist's brush, carefully outline your curved stripe or stripes in the paint color you have chosen. Select a 2- or 3-inch paint brush and fill in the color. Allow the curved striping to dry for an hour before applying a second coat of color if needed.