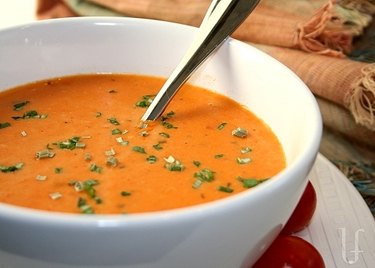 Tomato soup is creamy and delicious, and is great for warming you up on a cold winter's day. By itself, tomato soup may not be filling. There are a few items that both compliment the tomato soup and help fill your belly.
Grilled Cheese
Grilled cheese sandwiches go great with tomato soup. Dunk them in the soup and enjoy. To make your grilled cheese you will need 2 tbsp. of butter, two pieces of American cheese and two pieces of 100 percent whole wheat bread. Melt 1 tbsp. of butter in a frying pan and place a piece of bread on top. Add the cheese slices and top with the last piece of bread. Prepare to flip it over when the bottom piece of bread is golden brown. Lift the sandwich up and place the remaining butter in the pan. When it melts, flip and cook until the second piece of bread is golden brown. Serve with the tomato soup.
Salad and Corn on the Cob
Soup and salad are often paired together for a light lunch. Prepare your salad and corn on the cob while your soup is heating up. Place one cup of lettuce in a bowl and add chopped carrot. Throw in a small handful of chopped onions. Top with five black olives. Toss and coat with your favorite salad dressing. No need to add tomatoes since they are in the soup. Place the corn (husk and all) in the microwave. Cook on high power for four minutes. Carefully remove the husk and your corn will be ready to eat.
Baked Potato
Potatoes are a good addition to any soup. If you are making tomato soup, however, you may get more pleasure out of eating a baked potato on the side. Wash your potato and pierce it several times with your fork. Set it in the microwave on high for five minutes. Flip the potato over and cook another five minutes. Carefully remove the potato from the microwave and slice it in half. Use a spoon to loosen up the inside of the potato and then smother with sour cream. Top the baked potato with some chives and serve with the tomato soup.