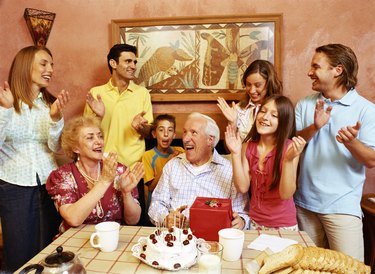 If a loved one is about to turn 80, you'll want to throw a bash that will not be forgotten. This is a great way for you to let your relative know how much you love him or her. It is also a great time to remember the person's life and all that he or she has accomplished. Surround the birthday person with friends and family, and include some activities that are sure to please everyone at the party.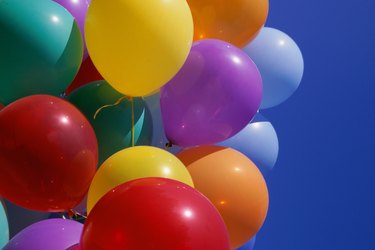 Purchase some balloons. You should have an eight and a zero to put on the birthday girl's chair. You may also want to get a balloon that says "Over the Hill." You can attach more balloons to the mailbox so everyone will be able to spot the party location. Next, find some vintage-type tablecloths to use. Party stores usually sell plates, napkins and cups with"80" or "80th Birthday" on them, so you'll want to buy these as well. Place a picture of the birthday girl in a frame in the middle of the table as the centerpiece.
Tip: You may be able to find older, antique-looking items at yard sales. You can use these to decorate other areas of your house.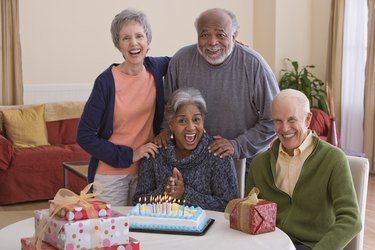 Find a trivia or board game from the era when your relative was growing up. At the party, encourage people to play the game. It will bring back memories and is sure to get a few stories started.
Next, you can create a slide show of the birthday boy's life. Scan older pictures into your computer and use PowerPoint or a similar program to pull them all together. He will love taking a look back at scenes from the past. Finally, you can play some music from the era when your relative was growing up. If he can still dance, have guests dance to the music like they would back in the day.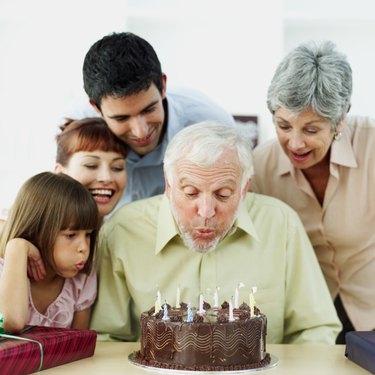 Begin by designing a special 80th birthday cake. You will want the cake to say "Happy 80th Birthday," of course, but there are some things you can do to make it even more distinctive. Find out who was famous at the time of your relative's birth. Have a caterer create that person somewhere on the cake. They can even make an edible picture out of a digital image of either the famous person or the birthday honoree. The rest of the food for the party should include your relative's favorites. The idea is to make the night special for your relative. You may also want to make some recipes that are family favorites or specialties. Maybe you know a few recipes that your relative's mother use to make. It would be a great surprise to re-create these recipes. Finish off with some party punch or your relative's favorite kind of beverage.