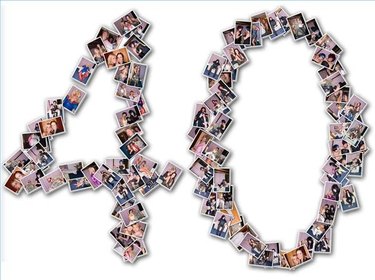 Over the hill. The Big 4-0. Any way you name it, a man's 40th birthday is a milestone that family and friends can make memorable by looking back at decades past and looking ahead to the future. To be special, a man's 40th birthday party should be planned around his personality, hobbies and interests.
Family Day
A family-friendly celebration is perfect for a man who dotes on his kids. Plan a backyard barbecue at home, or reserve space at a park or a favorite family restaurant. Hire an entertainer who will be fun for all ages, such as a magician, or rent a karaoke machine and have guests sing tunes that were popular 40 years ago.
Rent a projector and screen, and use a computer program such as PowerPoint to set up a slide show of memorable photographs from the guest of honor's life. Set it to music as the event's main entertainment, or play it continuously throughout the party.
Sports Bash
Surprise a sports buff with tickets for a sporting event he has always wanted to attend. Or, rent out a special box or gathering area at his favorite team's stadium and invite family and friends to join him for a game. Alert the stadium managers ahead of time that you are planning a man's 40th birthday party, and ask if they can broadcast it on the marquis.
If buying tickets or renting out an area of a stadium is too pricey, host a tailgate or sports bar party, and have guests dress in team paraphernalia.
Toast & Roast
Commemorate 40 years of memories with a birthday roast. Reserve a banquet room or other large space, and have a stage for the guest of honor and those roasting him.
Invite dynamic people from throughout his life to share funny stories. Siblings, childhood friends, buddies from college or the armed services, coworkers and bosses are good possibilities for a lineup of speakers.
Pub Crawl
Gather a group of friends and rent a limousine to celebrate his 40th by taking him on a drive through town with stops at his favorite pubs, breweries and bars. Call ahead to let the bars know you'll be coming and ask about signature birthday drinks. Bring disposable cameras for impromptu shots.
Other Ideas
Whatever the theme, you can add fun to a man's 40th birthday party by choosing decorations, music and accessories from the year he was born or the year he graduated from high school. Popular songs, movies, TV shows and clothing styles from years past can set the party mood.
Establishing a theme for the party will help guests choose meaningful gifts. For the guy who has everything, ask guests to make a donation to his favorite charity in lieu of gifts. Or simply say, "No gifts, please" in the invitation.