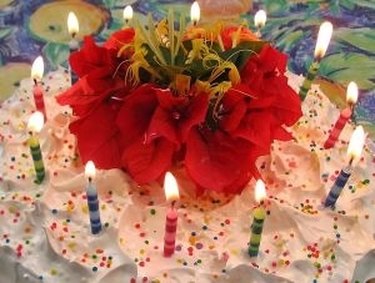 Birthdays are an occasion to make your friend or loved one feel extra special. Anyone can give a card full of birthday wishes, but you can be more creative to create a birthday message that is truly one of a kind. Show that you put thought and effort into the message and your friend will know that you went out of your way to celebrate their birthday.
Chocolate Bar Message
A chocolate bar message is a sweet surprise to someone on their birthday, and won't cost you an arm and a leg. Head to the candy store to buy chocolate bars that might have alternate meanings. Choose chocolate bars like "Snickers", "Almond Joy", "Take 5", and "Special". Then you can use a large piece of poster board to write a birthday message, using those candy bar names as words in the message, such as, "I hope you won't [Snicker], but I wanted to [Take 5] minutes to tell you just how [Special] I think you are. You bring me such [Almond Joy]". Tape the chocolate bars where the words should be, and then present the chocolate bar message to the lucky recipient.
Car Message
If you want to give your loved one a boost before they head to work in the morning, consider using their car as a large birthday message. Sneak out to their car with some liquid chalk and decorate their windows with birthday wishes. Make sure to only write on the car windows, as liquid chalk can erode some car paint. Also, don't write so much that the birthday boy can't see out of the windows, deeming it a visual hazard. Just some funny messages like, "Honk if you like birthdays!" or "You get my motor running, Happy Birthday!" are a good way to make sure that he has a great birthday all day long.
E-Mail Message
If you want to send the birthday girl a message but just can't seem to get away from your computer, try sending a message via e-mail that she'll be excited to find in her inbox. Make sure not to make it just any message, but one filled with pictures, warm sentiments and even inventive ways of sending it. You could send a succession of e-mails, each with only a letter in "Happy Birthday" as the subject line. When she opens her inbox, she'll see all of the messages, making out the words "Happy Birthday" to brighten her day.