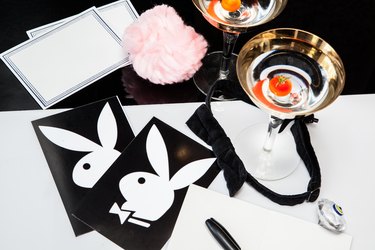 Hugh Hefner's "Playboy Penthouse" television show may be long canceled, but you can still throw a Playboy-themed party. While it may seem that having women in Playboy bunny costumes is enough to throw a Playboy-themed party, there are other ways to go about having this iconic American party theme.
Cocktail Party
The guests should arrive looking like the guests from the TV show. Men should wear tight suits, skinny ties and shiny shoes. Wearing a smoking jacket just like Hef's is a nice touch. Women should wear '60s-style clothes and have bouffant hairdos. The atmosphere should be like that of a swanky lounge, with music from Frank Sinatra and Perry Como. If you can swing it, rent a baby grand piano and hire a pianist to play music from Sinatra's heyday. Have the bartenders wear traditional white shirts with red waistcoats, and have servers wear Playboy bunny costumes. If the bunnies can do the bunny dip, even better.
Pajama Party
Have guests wear their sexiest pajamas for the party. To add a Playboy touch, send out invitations marked with the Playboy bunny logo or cut in the shape of the Playboy bunny logo. Unlike the sophisticated cocktail party, there aren't any other requirements for this party other than sexy lingerie--for girls and guys.
Mansion Party
Similar to the sophisticated cocktails party, the mansion party involves getting digs like the mansion. These can be rented, as can the staff. Send invitations that are black with white script, emblazoned with the Playboy logo. Dress is sophisticated cocktail party attire. You can also have guys come in silk pajamas and smoking jackets while gals wear bunny suits or sexy lingerie.