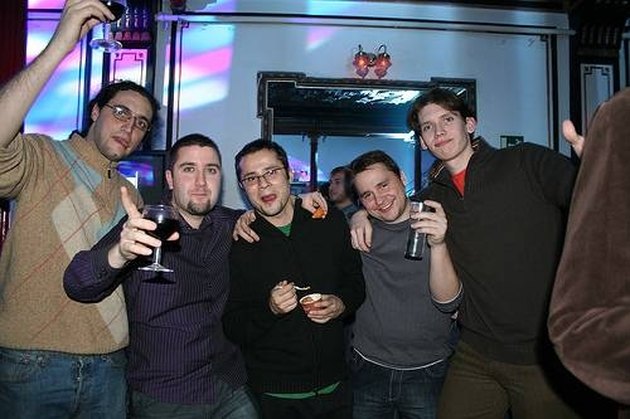 A 27th birthday party should be both classy and fun. You may want to do something more upscale than you have for past birthdays, however, you don't want it to be completely boring or stuffy. You can easily find a mix of both and have a great, original 27th birthday party everyone will enjoy
Dinner/Cocktail Cruise
If you live near a lake or river, a dinner cruise is a great 27th birthday party idea because it will be a different and new experience for most of your guests. Most companies offer different types of cruises, so if a dinner cruise is out of your price range, or if you'd rather take a shorter cruise, you could do a lunch cruise or a cocktail cruise later in the evening. A dinner or cocktail cruise will allow your guests to mingle, to take a lot of pictures and to do something they've never done before. After the cruise, you can always continue the party on land in a nearby bar or club.
Themed Party
A themed party is an excellent way to celebrate a 27th birthday. This type of party can meet any budget depending on how detailed you make the theme, location and décor. You can host the party in a house, backyard under a tent, or you can rent a venue or party room in a bar or restaurant. You can use any theme based on the season, the preferences of the birthday girl or boy, or a recent event that may inspire you. You can have a movie theme, in which everyone dresses up as a character from their favorite movie. You can also have a toga party, luau or '80s themed party. If you do have a theme party, make sure all the guests are aware they need to dress in costume and have plenty of time to prepare. Also, if it is a surprise party, make sure you bring an extra outfit for the birthday girl or boy so they don't feel left out at their own party.
Dinner Theater
A dinner theater can also be a great way to celebrate a 27th birthday, especially if the birthday girl or boy enjoys theater and live shows. One creative dinner theater idea is to take a group of friends to a "Who Dunit" kind of show, in which hired actors interact with audience members, and the whole group plays a part in solving a murder mystery, much like the game "Clue." Use CitySearch.com to find one in your area, or check with your local theaters, which sometimes stage these shows once every few months.
If you don't have a WhoDunit theatre nearby, consider going to a regular show. Most popular shows that are on Broadway will play at your local dinner theater. Most places also offer discounted group packages, so if you go with a party of people, you may get an even better deal per person.