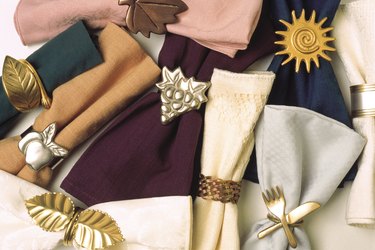 Monograms add a personal touch to an otherwise drab room or decor piece. They are excellent for adding a touch of elegance and sophistication to bags and other daily use items. Monogrammed items make excellent gifts and party favors for your guests to enjoy, giving these otherwise plain materials a customized appearance.
Stationery
Stationery is a classic item to monogram. Stationery can be made at home or custom made at wedding supply and fine stationery stores, as well as print shops. When making monogrammed stationery, the last initial goes in the middle and is usually larger, the first initial goes first and the second initial is last. When making stationery at home, use a nice card stock and choose a font that matches your personality. For a whimsical font you may want to try Curls, or for a more classic font you may want to use Monotype, Georgia or Vogel fonts.
Bags and Totes
Bags and totes are great items for personal use or as gift items for teachers, friends and grandparents. Monograms on bookbags add personalization and identification for an item that is used daily by school-age children. Monograms look best when centered in the middle of the bag and should complement the color of the tote.
Bedrooms
There are many ways to use monograms in a bedroom to provide style, such as a monogram on the wall behind the bed. These monograms are usually large, made of vinyl and work well in a child's room. Monograms can be placed on headboards if you do not wish to mark up the walls. Pillowcases and sheets can be monogrammed, as well as throw pillows and valances.
In the Kitchen
Monograms can be placed on backsplash tiles in the kitchen behind the stove. Monogrammed tile magnets hold notes and artwork on the refrigerator. Napkins and towels with stitched monograms serve as housewarming gifts for the kitchen. For a party or special occasion, use monogrammed labels on chocolate bars, wine labels and matchbooks as take-home souvenirs.