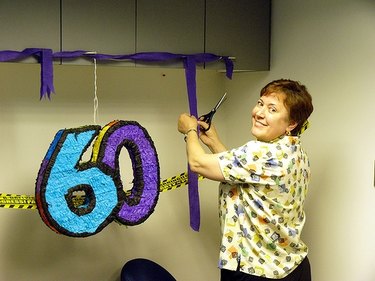 Celebrating a 60th birthday is a major milestone in someone's life. As you move toward retirement and a new phase of life, it is important to have your friends and family present to celebrate your special day. Whether you are turning 60 or you are throwing a bash for someone else, you can easily create a memorable and special party for all involved.
Pictures
Assemble pictures from the guest of honor's life. Make sure you include milestones like birthday parties, prom, bar mitzvahs, weddings, first communions and birth of children and grandchildren. Place these pictures in a scrapbook and display on a table so the guests can browse them at their leisure. You can also create a slideshow to play along with the guest of honor's favorite music.
Music
Ask the guest of honor what his all-time favorite bands are. Include his favorite band as well as bands that have been popular during his lifetime. Create a playlist of music and burn it to a CD to play throughout the party.
Decorations
Choose a color scheme to decorate the party venue or personalize it a little bit. Blow up a few pictures of your honoree and her children and/or grandchildren. Think about the things that were special in her life. If they've always lived in San Francisco, draw or purchase a poster of the Golden Gate Bridge to hang up. If she loves The Beatles, hang up a poster of The Fab Four.
Specialized Gifts
If your honoree has grandchildren, surprise her with a portrait of them or a mold of their hands. You can also assemble digital picture frames of the grandchildren or of special moments in your guest of honor's life so that she can plug it in and watch as often as she wishes.