A golden birthday occurs when your age is the same as the day of your birthday; for example, when you turn 20 on the 20th of the month, or you turn 8 on the 8th of the month. It's a special birthday because it only happens once, and it only happens when you're under 32. An occasion as rare as this deserves a birthday celebration like no other.
First Things First
If you're inviting guests, start the party right by using golden invitations. The paper itself can be gold or simply accented with golden borders or designs. Let your guests know why this birthday in particular is so special. Ask for any gifts to be wrapped in paper that carries on the gold theme. Include a small party favor, such as gold earrings, pins or bead necklaces, for each guest to wear to the party.
Set the Stage
The decorations for your party can be as lavish or conservative as you like. Set the dining table with a gold tablecloth. Use gold or gold-decorated plates, linens, glassware and utensils. Fill vases with golden, glittery globes, gold-painted pine cones or nests of golden lights. String gold lights anywhere you like: over the mantle, along the kitchen counter or down the center of the dining table. Set up photos of the birthday person in gold frames in easily visible areas. Tack "Happy Golden Birthday" lettering on the walls. Scatter gold glitter, confetti, ribbons and/or tinsel throughout the party venue. Drape golden silk scarves over your existing curtains.
Gold and Yummy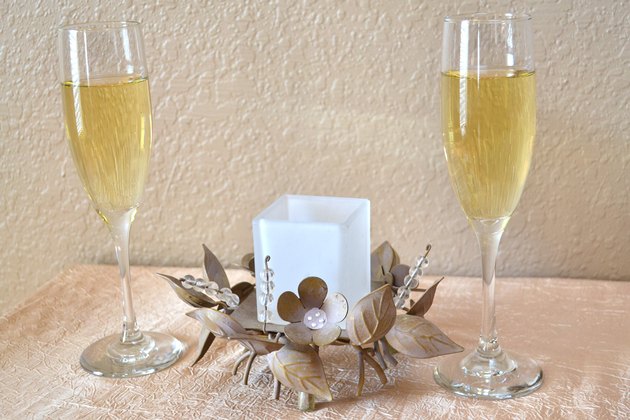 A totally gold-colored menu probably wouldn't be appetizing for anyone, so use clever ways to sneak a few gold-type items into the menu. Fill candy dishes, bowls or vases with gold-foiled candies. Top cupcakes with gold-colored gumdrops. Spray cakes, cupcakes and chocolates with edible gold paint. Coat vegetables and boiled eggs with edible paint. Serve champagne in golden flutes, or, if it's a child's party, serve ginger ale. For adult parties, serve gold-flecked liqueurs. Present party favors in gold mesh bags tied off with golden ribbons.
Get Gorgeous
An adult woman -- actually, even a young girl -- can get into the spirit by applying gold eye shadow or glitter to her eyes. Go further by adding gold lipstick, if you like. Wear a gold dress, sweater, jewelry or shoes. Paint your nails in gold. Add a gold accessory to your hair, like clips, ribbons, bows, a tiara or even a short, pretty veil. Men can wear a gold top hat and a gold bow tie. Spray on golden body glitter and emphasize the high points of your face with a golden highlighter. Babies can wear a golden onesie and a golden headband.