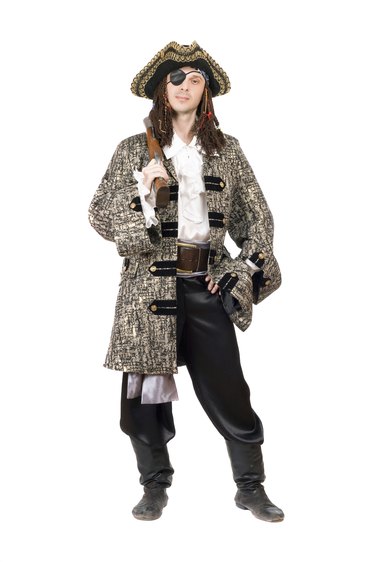 Young or old, people are fascinated by pirates. However, a pirate party for adults may be a vastly different affair than one for children, owing to the presence of alcohol and the potential for risqué subject matter. An adult pirate party may also take a less simplistic view of pirates, honoring their historical reality with authentic pirate foods and clothing or decorations that evoke an old-fashioned seafaring milieu.
Pirate Invitations
Give your invitations a sense of nautical authenticity by crumpling them up and lightly singing the edges to evoke the look of an aged parchment, or buy actual parchment and write the invitations with goose-feather quills. Hand-draw individual maps for each guest, showing the path to your house and marking the destination with an X. Decorate the outer edges with drawings of skulls, treasure, swords and elaborate wigs. Place these maps, along with the invitations, inside glass bottles and deliver them in person.
Pirating Decorations
Decorate the interior of your venue with fabrics that would not have been out of place during the classic pirating era of the 16th and 17th centuries. Drape windows and walls with old bed curtains, lace and brocade. Throw sheets over items such as televisions that would detract from the antiquated flavor of the party. Once the windows have been sufficiently darkened, place candles inside glasses or mason jars and place them throughout the room to create a spooky aura.
Pirate Food and Drinks
Reinforce the sense of authenticity by serving your guests food on china plates and alcoholic drinks in mugs and tankards. Bedeck the kitchen with wooden barrels, each of which may contain between 10 to 12 liters of wine, from which guests can serve themselves, or set up a cocktail bar where they can mix their own drinks. For dinner, regale your guests with beef cubes skewered on sticks, chicken or turkey legs and slices of cheese and bread, followed by pudding or raised pie for dessert.
Pirate Entertainment
Get some music going by playing songs from one of The Decemberists' earlier, nautically themed albums like "Picaresque" or the soundtracks to the "Pirates of the Caribbean" movies. Consider making a drinking game out of a screening of a classic swashbuckler like "Captain Blood" with Errol Flynn and Olivia de Havilland. Treat your guests to liar's dice, a traditional pirate game in which players take turns making bets and attempting to deceive their partners about the contents of a box. It can be played in both drinking and nondrinking versions.