Whether you're on the clock in a home office or you put in time at a traditional 9-to-5, personalizing your work space isn't just about aesthetics — it can actually make you more productive and improve your day-to-day mood. Think about it: you probably spend more time sitting at your desk than you do lounging in your living room, but your living room probably has some personality. If you stare at nothing more than white walls or gray bulletin boards as you get down to business, then it's time to give the same decorating attention to your career atmosphere. Here are 10 ways you can improve your workspace with simple decorations and modern upgrades.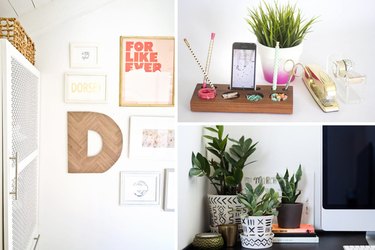 Don't Wait for Your Employer to Revamp the Desks
A trend that probably isn't going anywhere soon, standing desks are popular but they're not yet mainstream. Instead of waiting for your employer to follow the crowd, go ahead and make your own customized standing desk with a simple, modern design. It's easy enough for beginners and functional enough for any workspace.
Bring Some Life to Your Desk
Studies have shown that plants bring both increased happiness and productivity to your office space. While you can buy already-potted plants with minimal care requirements, it can be extra satisfying to plant and care for greenery yourself. Find out which plants work best for office life, along with everything you need to know to keep them alive, with this easy indoor plant DIY.
Personalize Boldly With a Wooden Letter
When you go to personalize your office, you can go at it subtly, or you can make bold personalized statements. Whether you're repping your name or your company's, do it boldly with a DIY herringbone wooden letter — it'll work well as an attention-getting piece on an otherwise busy wall.
Make a Tangible Reminder to Take a Vacation
We all know how it goes. We work hard and promise ourselves a vacation ... as soon as we accrue extra vacation time. Or as soon as the projects slow down. Or as soon as we get a raise. There are dozens of things (and excuses) that let time slip away from you without your much-deserved break, so it can help to plan ahead and place some inspirational reminders right in front of you. The perfect way to do this? A painted globe that you can make yourself.
Give Your Coffee Mug a Good Resting Place
Your coffee cup does a lot for you. Think of how many morning jumpstarts and afternoon pick-me-ups have come out of that trusty mug you set wherever it fits on your desk. Make a more permanent home for your coffee cup and protect your newly-made wooden standing desk by decorating ceramic tile coasters.
Prevent the Inevitable Desk Clutter
Make a Colorful Statement
Whether it's on your wall or desk, your office needs some pops of color alongside all of its natural wood pieces. Create a string art piece that makes a statement, declaring a favorite quote in a modern design and as many colors as you please.
Make Arrangements That Won't Fall Through (or Wilt)
Real flowers, while adding more color to your office, can be expensive and messy. Leave your green thumb to your perennial potted plants and opt for artificial in the floral department. There are plenty of beautiful and affordable artificial flower arrangements that give you the color and style you're looking for without the expense and mess of real flowers.
Make Your Bookshelf Set an Organized Example
If you have a bookshelf in your office, you probably know that it's prone to clutter almost as much as your desk is. Set up your office for success by starting with an organized bookshelf. And once you accomplish that project, go beyond neat and think about how you can style your bookshelf — because yes, there's an art to that.
Free Your Chair From Its Draping Duties
If you aren't careful, your office chair will quickly become the home for your office sweaters, office blankets and all of the other office fabrics that save you from frigid office air conditioning. Free your chair from its heavy duties by building a simple, modern teepee hat and coat rack. It's easy to make, takes your de-cluttering one step further and adds a classy look to your newly well-decorated office.