One of my favorite rooms to decorate is the living room. Your living room should always be the heart of your home. It's a space to unwind after a long day at work and entertain friends on the weekends. The space should be versatile and have a sense of balance to it. It's also important that your personality is reflected (this is major when designing an interior).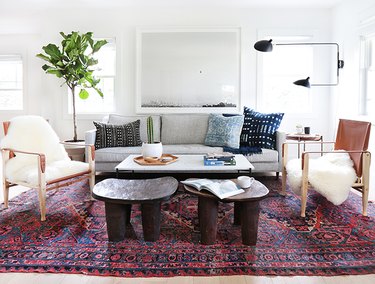 If you're reading this, I'm sure you have a living room that works for you, but isn't something you'd necessarily want to show off to others. What good is a living room if you can't Instagram your cup of coffee in it on a Sunday morning? Okay, I'm totally kidding here -- but also half serious. Everything you surround yourself with should radiate positive energy and make you proud!
So here's the deal - I'm going to try and give you some quick ways to transform your living room. Feel free to use them however you'd like -- spend some money or skimp for the meantime -- that part is completely up to you.
Start with a Neutral Foundation
I've said it before and I'll say it again -- a neutral foundation is everything! Take all your furniture out and paint the walls with a crisp light gray or white paint. Everyone always asks which color paint I like the best, but you really can't just pick one and hope it works for your home. I encourage everyone to test each paint color in your own home first before taking my word for it. Go buy some samples, take them home and paint 24 x 24 inch swatches on the wall. Watch how the color changes throughout the day and how the colors look in your room at night. Take a look at some of my favorites below...
Feature Neutral Furniture, Too
Make sure your furniture is also neutral. A basic space lets you build on top of what's there and not feel like you have to work in pattern confinement. You can go ahead and buy a custom sofa or simply go buy a slip cover for the one you already own. Remember, with furniture you don't have to stick to whites and gray shades, although those are always nice, don't be afraid to go for an indigo or a muted sage fabric. This creates more depth and is still basic enough that you won't grow sick of it in a few months time.
Lay Down Your Rug(s)
Next, it's time to decide what kind of rug situation you want happening in your home. If you want a big jute rug for the space, great. If you already have a rug that you think would look great layered over or under some new rugs, perf. Purchasing a rug may cost you a chunk of change, but they keep for years and years -- just make sure you'll want it for years to come!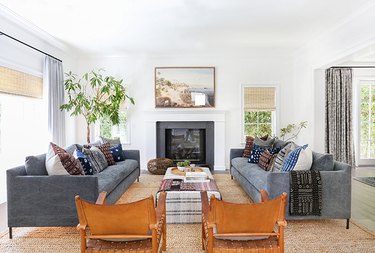 Add a Pop of Color with Pillows
The best way to transform a room with color is to add pillows (if you know me, you already know this). They can change the whole space! I literally go into a space with a million different fabrics and things and throw them all of the floor. I don't have any rules here but I guess a guide is to use colors that go well together. It also helps to zero in on a single fabric as a starting point.
Whatever you think works, keep. If it doesn't work for the space, then get rid of it. This is a process so don't expect it to happen over night. Go through and edit your look a few times and shop around. Most importantly, don't just shop for pillows and blankets that hundreds of people already have in their home. Be unique and think outside of the box here. Hopefully in the end, you'll have a cool combination colors and rich textures, from Malian indigo mud cloth to Laotian Hmong batik to Indian hand block prints to Turkish kilims. There you have it -- color, pattern, and a bit of worldly flair.
Put Plants on Display
Ya'll are going to love this step because it pretty simple -- just add foliage. A basic houseplant adds so much life to a room -- no joke. Go to your local nursery and ask them for a plant that will work well in your living room. Make sure you let them know the light situation because it turns out that plants can be real divas if they don't have enough light to get their photosynthesis on.
Now that your living room is looking like perfection, it's time to invite all your friends over to show it off. Enjoy!