Mason jar snow globes are a sweet way to add a little holiday cheer to any surface. They are cute on a windowsill, desk or bookshelf, and they're fun to give as gifts to everyone on your list this holiday season. Find out how to make a snow globe out of any size jar to add cheer to any space, no matter how small.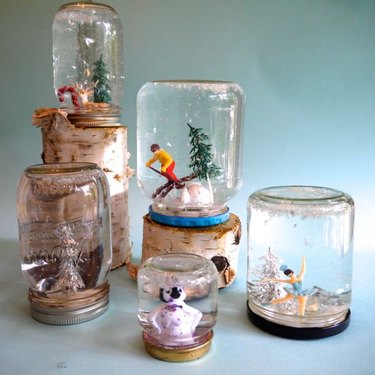 Materials
You'll need a collection of mason jars or you can upcycle any sort of glass jar as long as the seal inside the lid is intact. Pickle jars work well for large globes, and baby food jars work well for small globes. You'll need winter figurines, such as little deer, arctic animals, ice skater figurines, little trees, etc. Figurines should not contain any metal or they will rust. Cake toppers work well because they are plastic and lightweight. You'll also need distilled water, glitter, artificial snow, glycerin and epoxy glue.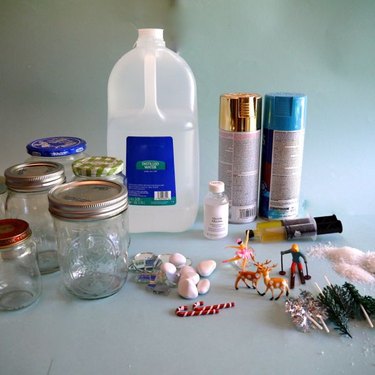 Spray Paint the Lids
If you are using recycled jars, begin by spray-painting the outside only of the lids a festive color. No need to spray the lids of mason jars as they are already silver.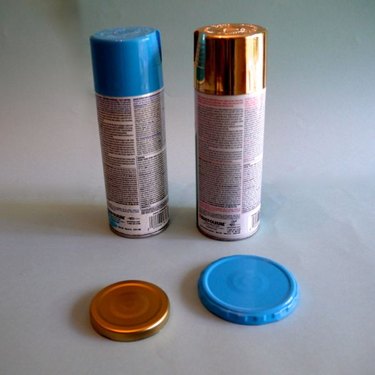 Set Up Scenes in the Lids
Once dry, take some time to set up a little winter scene inside the lid of your jar. Play around and take your time. You'll only have a few minutes once the epoxy glue is mixed, so it is best to decide the exact placement of your scene beforehand. Make sure to stay clear of the seal. Even the tiniest intrusion on the seal will cause a leak. When ready, mix the epoxy according to your brand's specific instructions. Make sure to do this in a well ventilated area or outside. Once mixed, you'll have about 5 minutes to glue your figurines into place. Tip: Mix the epoxy in small batches and work on one scene at a time (if making multiple globes). Allow to dry completely.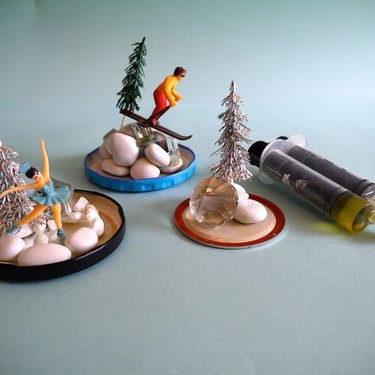 Fill Jar with Distilled Water and Add a Dash of Glycerin
You are now ready to assemble the globe. Fill the jar about 1/4 inch from rim with distilled water. Add about 1 teaspoon of glycerin to the water if using a standard mason jar. Add a bit more for larger globes and about 1/2 teaspoon for small baby food jars. This is to keep the snow from falling too quickly on your scene. Too much glycerin will cloud the water, so easy does it.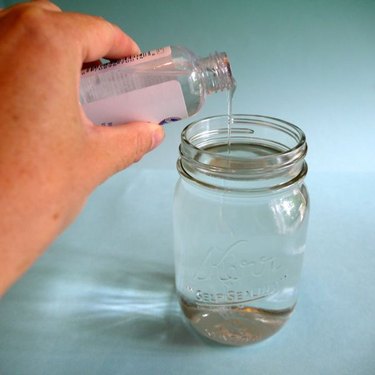 Add Artificial Snow and Glitter
Add about 1 tablespoon of artificial snow and a dash of glitter. You can adjust this measurement to your own preference, give or take.
Place Scene in Jar and Seal Lid
Carefully place the lid with your scene upside down in the jar and seal the lid tightly. Tip: If using a recycled jar rather than a mason jar, it's a good idea to add a touch of super glue or fresh epoxy to the inside rim of the lid before you seal the jar to prevent leaks.
Let It Snow
Display your handmade snow globes and spread holiday cheer! Prop them up on mini tree stumps of various sizes to show them off.