Overview
Step 1
Christmas wreaths are a centuries-old decorating tradition. During the winter months, people would gather evergreen branches to create beautiful wreaths for their doors, often adding a candle or natural elements. Not only did these hand-crafted wreaths add color to white winter landscapes, but they represented the coming of spring and renewed life and light. You can make one completely from scratch, buy a bare wreath and decorate it or, if you're running out of time, purchase a finished wreath and add to it as you please.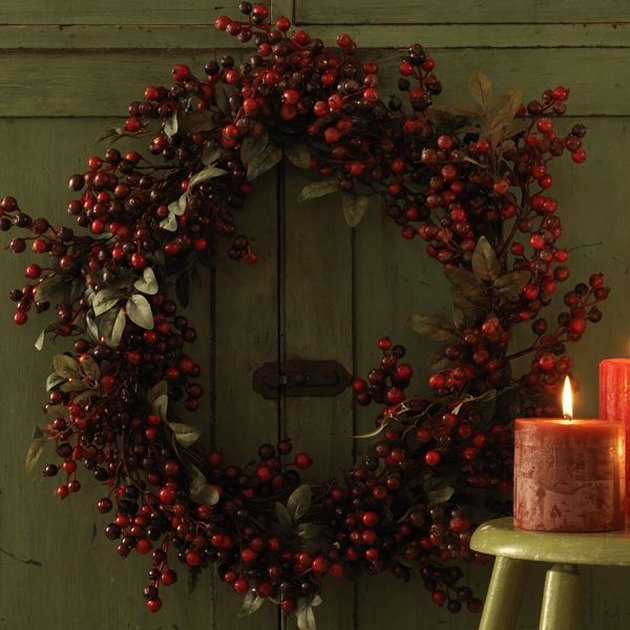 Gilded Wreath
Step 1
Give your wreath the gilded treatment. "Simply gather fallen pine cones and clusters of holly berries and coat them generously with metallic gold spray paint," says Jenny Holiday, an artist, designer and decorator whose work with partner Aaron Nieradka has been featured in The New York Times Magazine, Country Living and Woman's Day. "Attach them to your evergreen wreath using some fine-gauge wire and complete the look with a large, golden bow."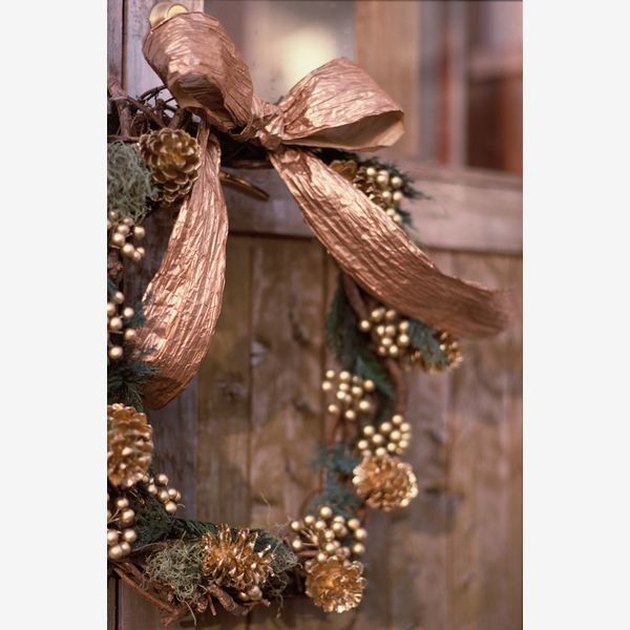 Ornamented Wreath
Step 1
Search online or in stores for glass or durable plastic Christmas balls in your preferred monochromatic or complementary color scheme. "Affix the balls in sets of three, using either a hot glue gun or some wire," advises Holiday. "To tie the look together, accent your ornament clusters with some pine cones spray-painted white."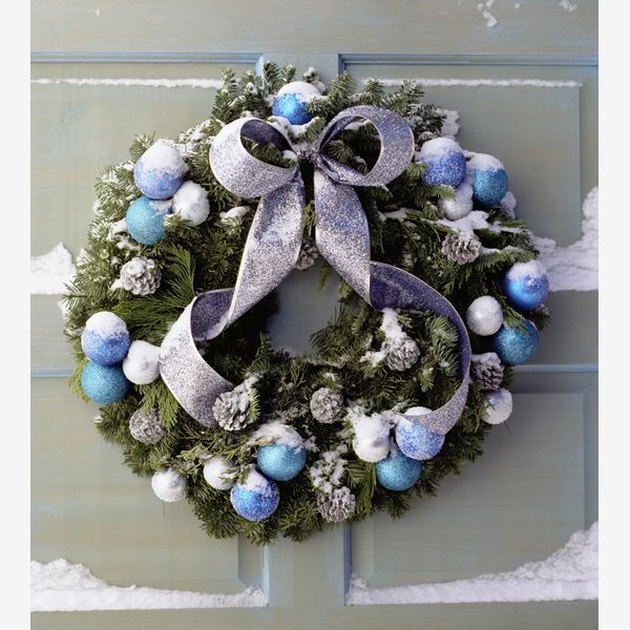 Coniferous Confection
Step 1
For this one, Holiday recommends starting with a basic evergreen wreath and then "sugar coating" it with flocking spray, available at craft stores. "Adorn your sugary ring with as many candy canes as you like, using either fine wire or hot glue. A candy-striped bow adds a sweet finishing touch."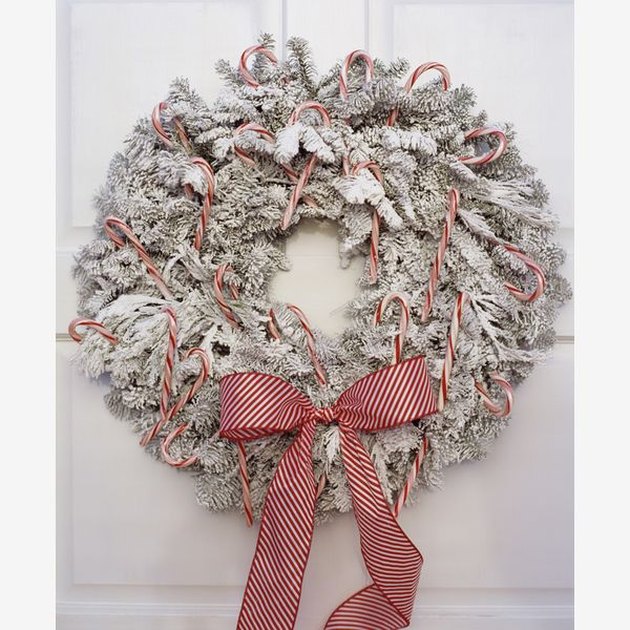 Mistletoe Wreath
Step 1
"Mistletoe is a holiday classic," says Holiday. "Start with a basic wire wreath form and bend it into an oval." Next, wire together bundles of mistletoe and clusters of berries. Adhere them to the wreath form, building from the inside out, she says. Between every few bundles, attach a cluster of berries.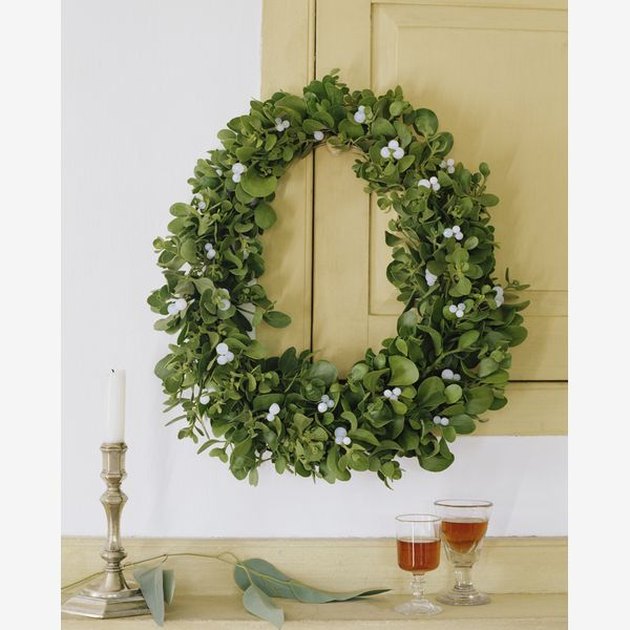 Iced Wreath
Step 1
For this cold-weather creation, all you need are some greens, fruit or berries of your choice, a Bundt pan, some water and a freezer. "Arrange your greens and fruits in your Bundt pan and pour in just enough water to freeze them in place," explains Holiday. "Once they're frozen in place, fill the remainder of the Bundt pan with water and freeze again." Run the Bundt pan under warm water for a few seconds to remove the frozen wreath, then hang it outdoors with a sturdy bow.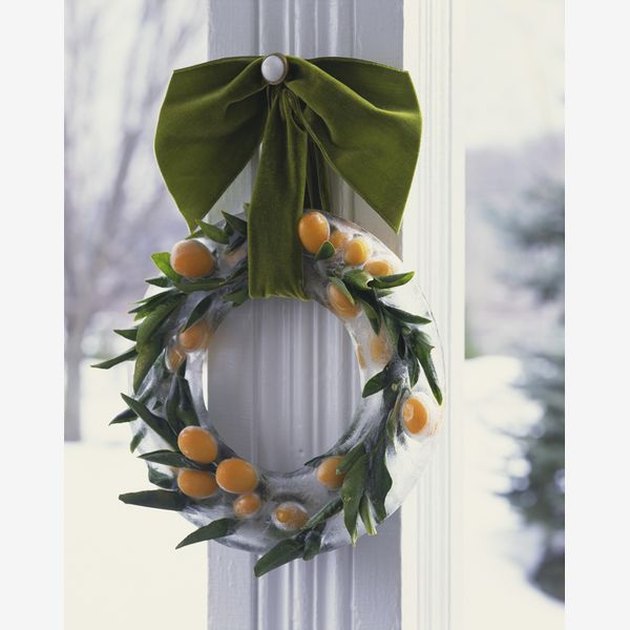 Jingle-Bell Wreath
Step 1
"The sound of a jingle-bell wreath is sure to put you in the holiday spirit every time a guest comes calling," says Holiday. Gather jingle bells in varying sizes and colors and wire them together in clusters to form a straight length of bells. "Simply twist your length into a ring and wire both ends together. Finish with a colorful bow."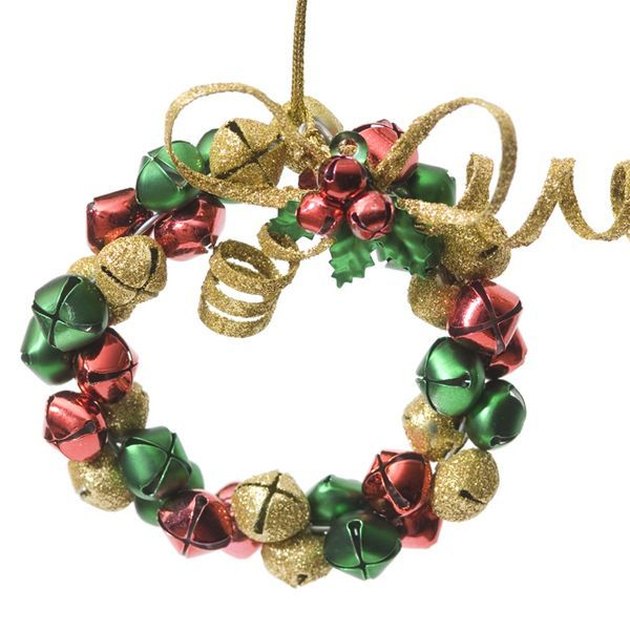 Fruity Wreath
Step 1
"Create a wreath that gives a nod to colonial Williamsburg," says Holiday. "Clusters of fruits, berries, figs and pine cones turn a basic evergreen wreath into an announcement of hospitality and pays tribute to the season's abundance." For this one, attach fruits to an evergreen wreath using florist picks. If you want the wreath to last longer than a few weeks, Holiday advises using artificial fruit.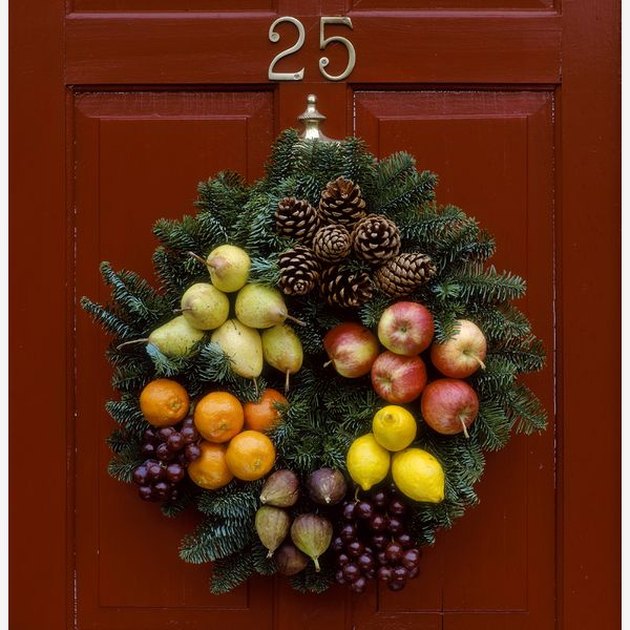 Dried Floral Wreath
Step 1
To recreate this wreath, Holiday says to start with an evergreen base. Buy some cinnamon sticks and lavish, dried hydrangea or other flowers, then methodically attach these elements to the evergreen base with ribbon and a fine-gauge wire.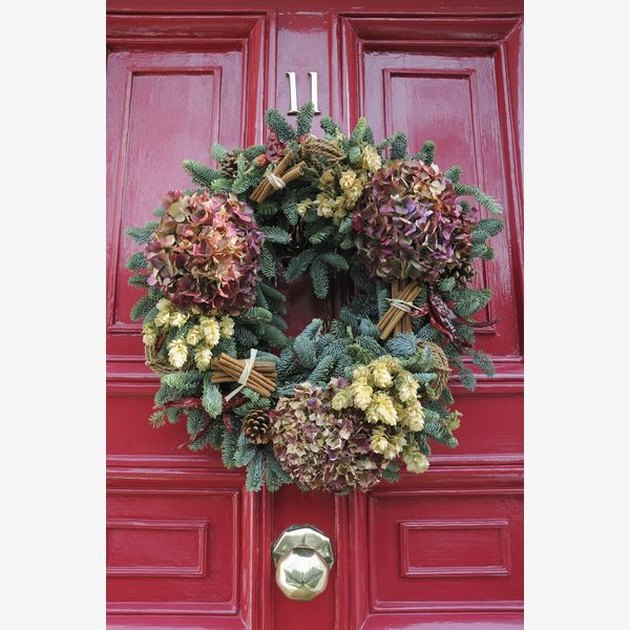 Pastiche Wreath
Step 1
"Give your wreath 'the gift of the magpie,'" says Holiday. Gather various elements that appeal to you; for example, "snippets of ribbon, garlands of beads, things that shimmer and shine, bits and baubles and plenty of ornaments both old and new." Arrange everything on a basic wreath with hot glue or fine-gauge wire, says Holiday.