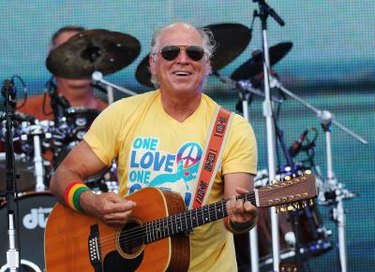 Jimmy Buffett is a famous American singer-songwriter whose songs are often celebratory in nature. Many of his songs reference tropical islands and alcohol. As an homage to the island lifestyle about which Jimmy Buffett sings, his fans are called Parrot Heads. Seasoned Parrot Heads and newcomers to Jimmy Buffett concerts and parties are encouraged to dress in tropical-themed attire. As you consider what to wear to a Jimmy Buffett party, think about the weather and the nature of the party. Do not be afraid to be creative in your outfit choice.
Colorful Top
You should wear a colorful top to a Jimmy Buffett party. Consider wearing a shirt that has a tropical theme, such as vibrant island flowers. Shirts commonly worn by Jimmy Buffett fans are Hawaiian shirts. Alternatively, you could wear an article of clothing that references Jimmy Buffett directly, such as a T-shirt that you purchased at a Jimmy Buffett concert. It is also acceptable to wear a bikini top. Essentially you should dress as if you are going to a beach party or luau.
Beach Bottom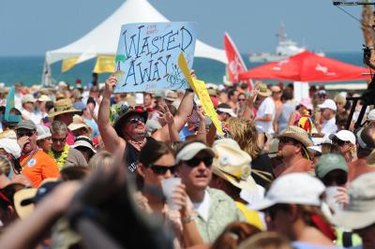 Many Parrot Heads, male and female, wear grass skirts or hula skirts to Jimmy Buffett events. If you don't have a skirt, you can wear a pair of khaki shorts or pants. You may also wear pants with colorful flowers, sharks or birds on them. The bottom of your outfit should follow a tropical island theme similar to that of the top of your outfit.
Accessories
Add accessories to your Jimmy Buffett party outfit. For example, you could wear a coconut bra on top of your colorful top, or you could just wear the coconut bra as your top. Other items to consider adding to your outfit include a lei, a colorful strand of beads and/or a pair of sunglasses. Additionally, consider putting tropical flowers in your hair to emphasize the island theme. For your footwear, wear beach sandals or boat shoes.
Hat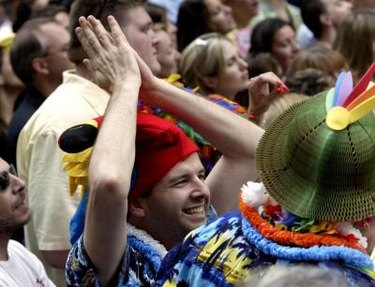 Many Jimmy Buffett fans sport hats with parrots or sharks on them. Some companies sell parrot hats designed specifically for Jimmy Buffett Parrot Heads. If you do not have a parrot hat, you could wear a straw hat commonly worn on sunny days at the beach or on a boat. However, Jimmy Buffett himself frequently wears baseball caps. If you would like to wear a baseball cap to the party, choose one that highlights a warm climate, such as a hat that references a tropical paradise or a vacation destination like Key West in Florida or a Caribbean Island.