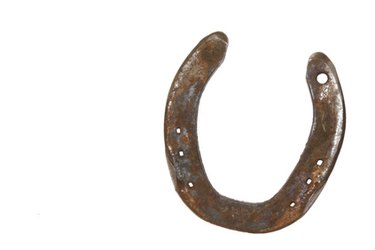 Turn old horseshoes into a variety of craft projects for decorating for your house. Use your imagination and show off your artistic abilities by creating a piece of art that your friends will envy. A few horseshoes and some supplies from your local craft store is all you need to get started.
Horseshoe Cross
Make a horseshoe cross using at least five horseshoes, you can add more horseshoes if you prefer a bigger cross. Put a horseshoe down on a flat surface with the open end at the top. Place two horseshoes underneath that horseshoe, one on each side. Those horseshoes open end will be facing out. Put the final two horseshoes underneath the middle horseshoes facing down. The open ends will be facing down and this will make the long part of the bottom of the cross. If you have welding skills, it is best to weld the horseshoes together. You can also use a heavy-duty bonding agent to adhere the horseshoes together. For added decoration, paint the cross to match your home decor.
Western Decorations
If you have rustic-style or western-theme home decorations, horseshoes will make a perfect addition. Glue the horseshoes to lamps, large picture frames and furniture for decorations. You can paint the horseshoes any color or leave them natural. Another idea is to take a metal or tin bucket and hang several horseshoes on the rim of the bucket. Use this horseshoe bucket as a centerpiece on any table. For added decoration, fill the tin flowers. Glue one horseshoe sticking up on top of another horseshoe and hang on the wall. The open end of the horseshoe can be used to hang hats and coats.
Dream Catcher
Create a horseshoe dream catcher using a horseshoe, fishing line or thin wire, beads, ribbon and feathers. Wrap the wire around the outside of the horseshoe and keep working the wire inside to create a spiderweb-like pattern. Slide beads on the wire while you are creating the pattern. Add feathers, beads and ribbon to the dream catcher. Place a concho in the middle of the dream catcher for decoration. Hang an extra piece of wire at the top of the dream catcher so you can hang it up. Put several beads on fishing line and hang from the bottom of the dream catcher for more decoration.