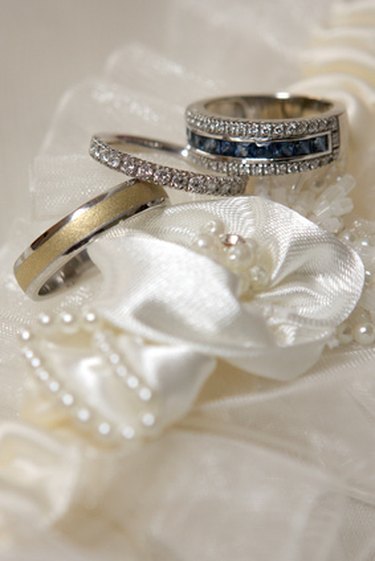 An anniversary is often a time to commemorate the beauty of marriage with close friends and family. If your parents or grandparents will be celebrating their 70th anniversary this year, chances are you're planning something special for the couple. There are a number of decorative schemes, activities, and gift presentations that will make this event memorable for everyone in attendance.
Show a DVD Presentation
Playing a DVD with images and sentiments that will be especially heartwarming for the couple can serve as the main source of entertainment for the party. Before the party, meet with the couple's friends, loved ones, and former coworkers to describe what makes their marriage so special. You can even arrange the DVD gift as an interview or documentary, asking participants to recall their fondest memories of the bride and bridegroom and displaying pictures of them as children or photos from their wedding. Include background music from the era when the couple first fell in love or write an original song with loved ones to play while the DVD is playing.
Decorate With Diamonds
Adorn the party space with diamonds to make the 70th-anniversary celebration particularly festive. Diamonds are traditionally associated with being married 70 years, as the stone is timeless and beautiful. You can fill tall glass vases with synthetic diamonds and use the vases as centerpieces for the tables at the party or put clusters of gray, diamond-shaped balloons in the corners of the room to further showcase the diamond theme. Of course, a gift of diamonds is appropriate for a 70th-anniversary party as well. A large diamond brooch or pair of earrings is an elegant gift to present to the woman, along with a set of cuff links or a diamond-trimmed pocket watch for her husband.
Recreate a Scene
To make the celebration especially original, you can re-create a scene that is significant to the anniversary couple. For instance, you can ask all the invitees to dress in clothing inspired by the 1940s, the decade when the couple were married. Women can attend the party in pencil skirts and and stockings with embroidered designs, and men could wear zoot suits. Take a look at some old wedding pictures of the guests of honor and use the colors and flowers that the couple used for their wedding to decorate the party site. Or you can adorn the party location to look like the diner or restaurant where the couple had their first date by looking at pictures or talking to other family members to get information about the location. This will make the 70th anniversary one that the couple and party guests will always remember.