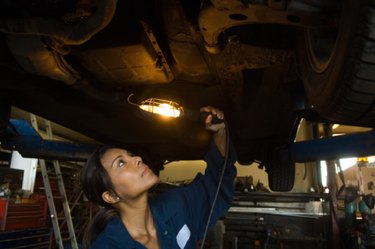 Quality inspections can be an essential part of any industry, but they are most commonly associated with the manufacturing and production industry. Routine inspections are typically conducted as a daily, weekly, monthly or yearly quality inspection audit that may be focused on worker productivity as well as the quality of a finished product such as a manufactured toy or piece of clothing. Quality inspection objectives vary depending on the company's primary objective, but most quality inspections are designed to promote business profitability.
Improve Quality
A business cannot succeed unless it is profitable, and a company that fails to produce a quality product will lose their customer base and lower their overall profitability. One of the most important ways to sustain business profitability is to create a quality product or service that consumers can rely on, and one of the primary objectives of any quality inspection is to improve the quality of a product, service or procedure. As a company produces a product such as a running shoe, a quality inspection manager or team may be charged with the responsibility of testing that product as a consumer would in order to provide feedback on the durability of the product and the value to the consumer.
Reduce Error
According to QualityInspection.org, quality inspections are often designed to put a stop to major quality issues. If a manufacturing process continually produces a damaged or inferior product, a thorough quality inspection can help bring discrepancies and production errors to the forefront so they can be resolved. Likewise, if an established company procedure results in an excessive expenditure of company resources in one particular area, a quality inspection can help detect those imbalances and locate the root causes of issues so they can be rectified to reduce procedural errors that may be costing a business organization time and money.
Lower Costs
QualityMag.com also indicates that quality inspections and quality control departments are designed to help lower costs and thereby improve a company's profitability. Experienced quality inspection professionals often have the knowledge and insight needed to implement procedures and practices that can improve worker production and also improve the quality of the product that is being produced. Producing a better-quality product results in fewer consumer complaints and fewer corrections of production errors, and allows a company to refocus the business resources into other areas of growth and development.