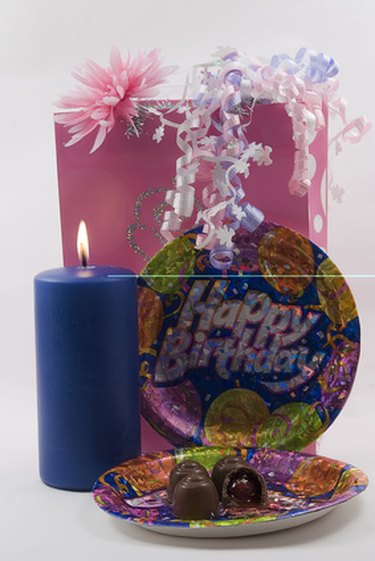 Every birthday should be celebrated, even those that don't mark a significant milestone or change in decade. If you have friends or family members turning 44 years old, give them a special gift that lets them know that this birthday is just as important as their 16th, 21st, or 40th. When choosing a gift, take into consideration their lifestyle, personality and interests.
Gifts of Adventure
Middle age often signifies settling down with a stable job, owning a house and raising a family. The crazy adventures of youth like spring break in Florida, driving across country after high school graduation or backpacking through Europe after college have ended. Whether you're buying a present for a man or woman turning 44, add a little adventure back into his or her life.
Enroll him in a scuba diving class or take her sky diving, rock climbing or white water rafting. If he enjoys washing NASCAR, sign him up for a ride with a stock car driver. Maybe the birthday person lives in the city but fondly remembers his childhood growing up on a farm. Send him to a dude ranch for a week. If your friend enjoys the outdoors but doesn't get to spend enough time in the wilderness, sign her up for survival training. An adventurous birthday gift will help the recipient recapture his youth and feel alive and young again.
Gifts of Relaxation
Middle age also comes with a lot of responsibilities and stress. Give the birthday person a gift that will help her relax for a day or an entire weekend. Send your friend or family member to the spa for the day. She can indulge in a massage, seaweed or clay wrap or facial and let the stress of work, bills and the kids just melt away.
If your friend enjoys golf, give him a certificate for a golf lesson with a golf pro. He can relax and improve his swing. For those that enjoy fishing, rent a fishing boat and have the birthday person spend his day on the water, catching fishing and enjoying his day of leisure. To make these presents more special, make the trip for two so you can spend quality time together. If the birthday person is a significant other, arrange a visit to a winery or go for a sunset horseback ride or a sailboat excursion together. The recipient will feel loved and rejuvenated with any one of these gifts.
Customized Gift Baskets
Gift baskets may bring to mind impersonal piles of fruit or mounds of cheese and sausage, but gift baskets make a thoughtful gift when customized to fit the birthday person's hobbies or interests. Fill a basket with a mixture of the person's favorite foods, anything from gourmet chocolate to commercial cookies. If the birthday person loves to read, stack the basket full of paperback books, bookmarks and a book lamp. Maybe the recipient collects toy trains; fill the basket with toy trains, train models and books on trains. For a car lover, give him car wax, driving gloves, tools and books about cars. Gift baskets can cater to anyone's interest and show you put a lot of time and thought into giving the person something he or she truly enjoys on a 44th birthday.