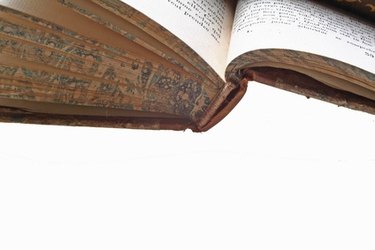 Starting a craft or woodworking project, or repairing an outdoor item often requires a specific type of adhesive such as PVA glue. Arts and crafts shops as well as home-improvement stores are filled with a variety of glue brands. The correct PVA adhesive must be chosen for specific mediums such as paper or wood, narrowing down the selection process. White- and yellow-based glues have different properties and are used for various project types.
PVA-Polyvinyl Acetate
Hobbies like bookbinding, box-making or card-making as well as creating a collage usually includes a coat or two of polyvinyl acetate, also referred to as PVA glue. Polyvinyl acetate is a vinyl polymer used in adhesives as well as paints. Though brands vary, this glue type is usually acid-free. It is also generally economical, white in color and dries clear. The glue appears silky and runs smooth when spread onto the surface with an application tool such as a brush or crafting sponge. Neutral ph PVA is an archival-safe adhesive. It remains flexible when dry and is permanent. It also does not become brittle or turn yellow as the paper ages. The most common PVA glues are Elmer's white glue, Crafts and Hobby PVA glue or Paper Source Bookbinding PVA glue.
PVA-Wood Glue
An aliphatic resin is another name used to refer to PVA wood glue. The yellow-based wood-to-wood adhesive results in a strong bond. Scraping off old glue from specific areas as well as using adhesive remover prior to spreading the PVA wood glue, ensures the adhesive absorbs into the wood. Clamping the wood pieces together to prevent movement ensures the glue-bonds do not break resulting in weakened glue. Titebond Original wood glue, Great Planes Pro wood glue and Elmer's Carpenter's wood glue are examples of the PVA adhesive.
PVA-Water-Resistant Glue
Mildew resistance and moisture tolerance are two key benefits when using water-resistant PVA glue, though not all are waterproof. Keep in mind that water resistance refers to withstanding the effects of inclement weather. Waterproof refers to withstanding the inclement weather as well as water submersion. According to FineHomeBuilding.com, "Type-I (waterproof) and type-II (water resistant) PVA glues, such as Titebond II and III, contain water, but also strands of polymers that become entangled and chemically bonded to perform better in exterior conditions." Exterior PVA glues are generally water-resistant and can handle the harsh outdoor elements. Read the label to ensure it is an exterior PVA adhesive, such as Elmer's Carpenter's Exterior Wood Glue.