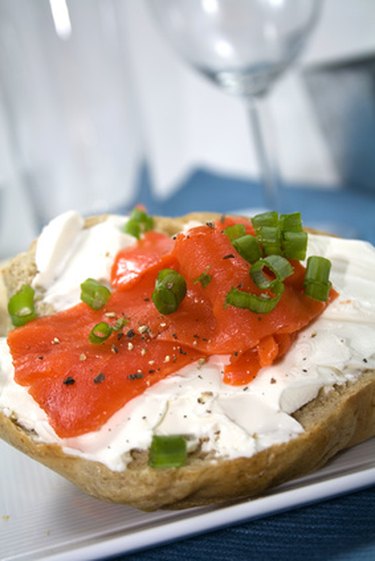 Ricotta cheese and cream cheese are two different types of cheese that can be used for a variety of recipes in the kitchen. Each of these cheeses carry with them their own unique qualities and uses. Learning the differences between the two can help you decide which one might be better for a recipe you have in mind.
Origins
With its origins traced back to the Roman era, ricotta cheese is used often in Italian cuisine. This may be because most ricotta cheeses now are made from the run off of other Italian cheeses like mozzarella. Cream cheese's origins have been traced back to a few European countries where they refer to it as white cheese. It came to be cream cheese in America in the late 1800s.
Texture
Ricotta cheese and cream cheese also have slightly different textures, so if deciding between the two you should decide what kind of texture you want your food to have. Cream cheese is creamy and smooth, it is also easy to spread but can be chilled for a few hours to make it harder. Ricotta cheese on the other hand is a more firm kind of cheese that has a very light hint of graininess to it, but can be melted or warmed to soften it up. However, it is not as spreadable as cream cheese.
Ricotta Uses
Ricotta cheese is used primarily in Italian cooking, although it can be used in any type of cooking if you'd like. Popular Italian dishes that use ricotta are lasagna, baked ziti and manicotti. Ricotta can be served chilled, but is usually heated up in whatever dish it is being used for.
Cream Cheese Uses
Cream cheese doesn't lend itself to one specific cuisine. It is a popular spread for breads like bagels or in appetizers, and other ingredients like spices and meats can be blended with it to add flavor. It can be used in desserts like cheesecake or as a frosting. Cream cheese can be warmed up but is most often served chilled. In cheesecakes, the cream cheese is mixed up and refrigerated prior to serving; as a spread, it is usually chilled and served immediately.