Vanilla paste is sold in gourmet stores and made from the sticky tiny seeds inside of vanilla pods. The seeds are then mixed with sugar, water and natural thickener. The paste gives your baked goods and treats the delicious flavor of fresh vanilla beans. Vanilla seed specks add a pleasing gourmet appearance. If you don't have vanilla paste, you can substitute "pure vanilla" extract, vanilla powder or vanilla sugar for the paste in the same amounts as called for in your recipes.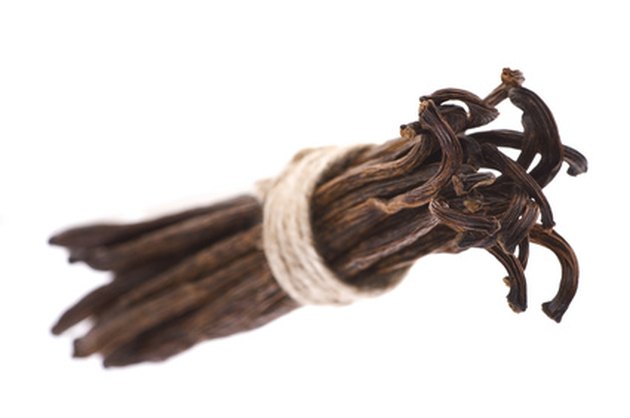 Vanilla Extract
Bottled vanilla extract is the form of vanilla most commonly used by home bakers. This vanilla product is made by soaking vanilla beans in a water and alcohol solution. Read labels and look for for bottles that say "pure vanilla" extract. FDA regulations state that pure vanilla extract must contain 13.5 oz. of vanilla beans per gallon of solution containing 35 percent alcohol. Imitation vanilla extract is made from conifer tree sap or coal extract and has a bitter aftertaste. Products labeled "vanilla flavoring" may be blends of pure and imitation vanilla extract, or made with insufficient quantities of vanilla bean to qualify as "pure vanilla extract."
Vanilla Powder
Vanilla powder is made from ground, dried beans. Some manufacturers add small amounts of stabilizers such as gum arabic and dextrin to keep the powder in loose form. Look for quality vanilla flavoring in health food and gourmet shops. Vanilla powder is a good way to flavor hot drinks because it will not evaporate in hot liquids like alcohol-based extract.
Vanilla Sugar
If you have fresh whole vanilla beans you can extract the flavor yourself by making your own vanilla sugar. To make vanilla sugar, cut one or two vanilla beans in half and immerse them in a jar with a well-sealed lid containing about two cups of low processed or unrefined cane sugar. Wait for at least one week to allow the sugar to absorb the vanilla flavor before it is ready to use in recipes.