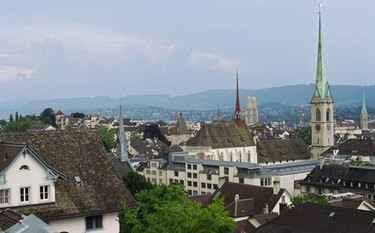 In 2008, Switzerland amended a law for "moral consideration of plants for their own sake." It was established to help preserve biodiversity and to re-evaluate new technologies like terminator genes and genetically modified organisms. Switzerland has many indigenous herbs and spices that are used in cooking and medicine that we should preserve and study.
Oregano
Wild oregano is known as an anti-fungal, anti-bacterial, and anti-parasitic herb. Some European herbalists believe that American herbs labeled oregano are actually mislabeled thyme or marjoram. Wild oregano oil is said to fight yeast and can stop hay fever. It helps stop fevers and colds, and it can be used as a strong anti-oxidant.
Mullein
The herb mullein is used for asthma and coughs. It grows to about 4 feet, and it has yellow flowers on a long stalk. The entire plant has downy hairs, making it feel soft and velvety. It was used to cure cattle and pigs for lung ailments, and it is also used in ear drops to cure ear infections.
Yarrow
Yarrow is considered a weed in some countries. It has a rough and angular stem with alternating leaves 3 to 4 inches in length. It flowers in late summer with pale lilac or white flowers like tiny daisies. Yarrow has been used to heal wounds, and tea made from the herb is supposed to cure melancholy. It is also associated with witchcraft and divination of spells.
Pot Marigold
Pot marigold or calendula is widely used in medicines and cooking as a healing herb. It has light green leaves and its flowers are golden-orange. A marigold tea can be used for ulcers, fevers, and jaundice. Yellow dye can be extracted from the flowers, and its flowers and leaves can be eaten in salads. It is said that marigold flowers can cure children's ailments, and it is used in many popular organic healing lotions.
Wild Garlic
Known in Europe as alpine wild garlic, wild garlic can be used to control cholesterol and high blood pressure. The Association for the Protection and Research on European Medicinal Plants called this plant Medicinal Plant of the Year. It has anti-bacterial and anti-fungal properties. During World War I, wild garlic was used to fight dysentery. Currently, studies are being done to test its effectiveness against cancer and other diseases.