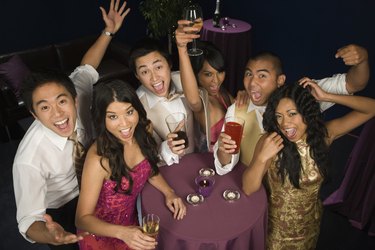 It's not everyday that you turn 25. There are plenty of ways to celebrate this milestone to suit a variety of budgets and interests. Gather friends and family to celebrate a quarter century in a way that is as special and as the person reaching this milestone.
25 Things
If you are turning 25, try to make a list of 25 small things you have always wanted to do or that you know would make you really happy. You can include things such as sharing a beer with a sibling, calling an old friend on the phone, or dancing to your favorite song. Make sure your list includes only things that can all be done in the same day. Call upon your friends and family to help you if necessary.
1925 Party
Celebrate a 25th birthday with a 1925-themed birthday party. Encourage your guests to break out their best 1920s costumes and prepare to serve Prohibition-era cocktails. If the party will be held during the day, bring out a croquet set and invite your friends and family to join in. Play big band music, serve drinks in champagne flutes, and project silent movies from the 1920s on a white wall in the party space. Serve chocolate-dipped strawberries and layered cake for dessert.
Birthday Distillery Tour
For a man who likes whisky, consider organizing a special group trip to a local distillery. Craft distilleries can now be found in most states, but you can refer to the listings compiled by Whisky Advocate online. Gather a group together to go on a special tour to celebrate a 25th birthday. Call in advance to reserve a group tasting and a special bottle to present to the birthday boy to commemorate his special day.
Birthday Tea
A special tea party is a fun way to celebrate a woman's 25th birthday. Invite female friends and family to attend, asking them to dress in tea party attire. Gloves and hats are welcome at an afternoon tea. Prepare your favorite finger sandwiches and small plates of cookies and miniature cupcakes. Decorate the tables with floral arrangements and pretty teacups. If you would like to buy inexpensive china to decorate, pretty mismatched cups and saucers can be found in most thrift stores. For an extra touch, hang a birthday banner above the treats table.