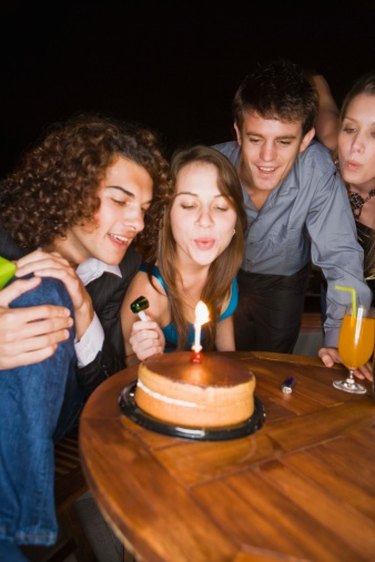 When someone turns 20, she is leaving her teen years behind and is entering a new decade of her life. So plan a fun birthday celebration to mark this milestone. You could celebrate all the things that she has accomplished so far, or look toward the things that are coming down the line. However you choose to mark the occasion, make sure it is something that fits the birthday girl's personality.
Camping
People who are 20 years old can't go to most bars or out to a club because they aren't yet 21. So find something else fun to do with your friends. For example, go camping at a local state park or beside a lake or river. Rent a cabin for a night or two or simply pitch a couple of tents. Build a bonfire and roast a birthday meal of hot dogs, sausages and marshmallows for s'mores. Depending on the attractions wherever you are camping, take part in activities such as swimming, fishing or hiking.
Water Park
Get a group of friends together and head to a local water park for the day. You and your friends can catch some rays, go swimming and go down giant water slides. With this party you can get back to your childhood roots and spend your birthday playing in the water. Once the day is over, go to a local restaurant for a meal and some birthday cake.
Movies
This is a party you can host at your own home. Maybe the birthday boy has a favorite genre of movies, such as horror films, romantic comedies, comedies or action thrillers. If that's the case, host a movie marathon and watch several of his favorite movies. Serve traditional movie snacks, such as popcorn, nachos and plenty of candy.
Roaring Twenties
Mark this milestone birthday with a fun twist. Host a roaring '20s party and let everyone dress up for the party. Women can wear flapper dresses and men can dress like 1920s gangsters. Because the 1920s are known for prohibition, even the party guests who are over 21 won't mind that there is no alcohol at the party. Hire a dance instructor to come to the party and teach everyone to do the Charleston and the fox-trot.