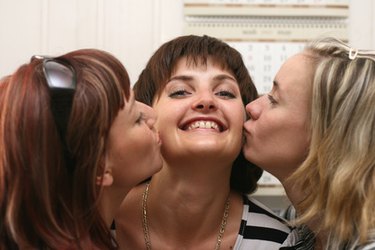 A 34th birthday can be met with apprehension as this age brings the birthday celebrant into her mid-30s. Ease any anxiety that the honoree may have by celebrating this birthday in an enjoyable way. When preparing the festivities, keep in mind the birthday boy or girl's interests and plan with these interests in mind.
Party it Up
Throw a big birthday bash for a 34th birthday. Pick a theme and center the party around that theme. Throw a decade-themed party based on the decade that the honoree was born in. For instance, if he was born in the 70s, plan a disco-themed party, complete with disco balls, strobe lights and disco dancing. Have a color-themed party: if the celebrant's favorite color is blue, for example, decorate with different shades of blue balloons and crepe paper, serve blue food and drink, and ask the guests to don blue attire. Relive those cherished childhood years by throwing a slumber party. Invite all of her best gal pals over to watch movies, do each other's hair, and gossip.
Rest and Relaxation
Life as an adult can get hectic. On the birthday celebrant's birthday, give her a day to unwind. Plan a trip to a day spa where she can enjoy a massage, facial, manicure and pedicure. After the day spa, take her to her favorite restaurant for food and cocktails. If she has a family, clear her calendar and take her kids overnight so that her and her significant other can enjoy a night to themselves, any way they wish.
Night Out
Surprise the 34-year-old with a night on the town for the celebrant's birthday. Plan to have a limo pick her up and take her and some of her nearest and dearest to have dinner and drinks, followed by an evening of dancing. Another choice is to get tickets to a show or a concert that she's always wanted to see. Take him to see his favorite sports team play.
Live it Up
Plan a day or weekend filled with activities that the celebrant particularly enjoys. If he likes the beach, book a room at a hotel near a beach and enjoy the sand, surf and water sports. For someone who enjoys camping, pitch a tent at a favorite camp site and have a weekend surrounded by the great outdoors. For someone who likes to live on the edge, arrange to go sky diving, white water rafting, hot air ballooning or hang gliding.