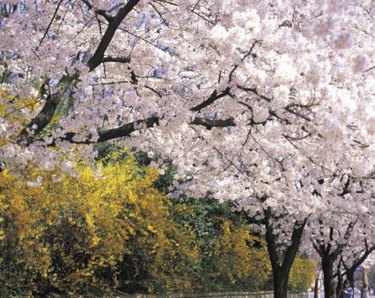 Cherry trees have few companion plants that work directly to provide measurable benefit the way companion planting in the garden demonstrates. However, companions do exist with the potential to help cherry trees look and perform better. These options not only to produce a better crop of cherries but create a visual display of color alongside ornamental varieties.
Flowering Cherries
Flowering cherry trees do well with dogwood, azalea and rhododendron for appearance and color, according to the "Georgia Gardener's Guide." Flowering cherry trees need protection from seasonal standing water. A cherry tree may be helped to thrive despite a poor location by planting another tree or several plants that alleviate the problem. Weeping willow trees, for example, thrive in damp areas and can draw the damaging moisture away from a cherry tree if the homeowner is reluctant to move the tree.
Attract Pollinators
Plant flowering ground covers and other flowering plants around their cherry trees to attract pollinators. Such plants draw mason bees, also called orchard bees, to feed in the area. Plants such as cranesbill geranium and rugosa roses provide forage for bees when cherry trees are not in bloom.
Combat Japanese Beetles
Prunus species plants are likely to be damaged by Japanese beetles. This list includes cherry and black cherry trees. Homeowners who want the best chance for success with their cherry trees may wish to surround their trees with plants that do not additionally attract the beetles. These include flowering dogwood, magnolia, ash and oak trees; pear and persimmon trees; lilacs and holly. While it is possible that other plants the beetles prefer could act as a trap crop, drawing some beetles away from the cherry trees, the effort may backfire and attract an even greater number of beetles to the site. The University of Kentucky College of Agriculture lists roses, grapes, sassafras, flowering crabapple, Norway and Japanese maple trees among the most attractive for Japanese beetles.