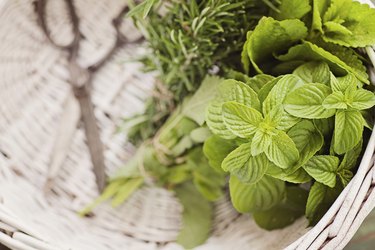 "I'm addicted to it," says James Beard Award-winning chef and author Jerry Traunfeld about lavender in "The Herbfarm Cookbook." Familiar to most as an ingredient in perfume, soap and potpourri, lavender also has a long culinary tradition. The pungent flavor of lavender pairs well with many spices and herbs. Grow your own lavender or purchase culinary-grade lavender to avoid the pesticides and oils added to potpourri lavender.
Mint
Pair lavender with mint to add a subtle hint of fragrant sweetness to tea, ice cream and sugar-based glazes. Mint has enough bite of its own to stand up to lavender's strong flavor, but use lavender petals and flowers to avoid introducing a medicinal or soapy flavor to the dish.
Rosemary
Lavender and rosemary share a family lineage that includes mint and lemon balm. They also pair well in savory dishes, such as lamb, poultry and potatoes. Drop a few sprigs of rosemary and a small spoonful of lavender flowers in the water when you boil potatoes to add an earthy, floral flavor.
Fennel
Herbes de Provence, the classic French blend of dried Mediterranean herbs, usually includes fennel seeds and lavender leaves and blossoms, along with marjoram, thyme, sage and savory. Sprinkle herbes de Provence over charcoal on the grill to add a pungent note to smoked ribs and poultry, or wrap sprigs of lavender and fennel fronds together to skewer scallops for grilling.
Cinnamon
To make cinnamon-lavender scented sugar or salt, bury a sprig or two of lavender and a cinnamon stick in a cup of sugar or salt, cover and let it sit for 24 to 48 hours. Use the cinnamon-lavender sugar in tea, on toast, or in place of sugar in shortbread and sugar cookie recipes. The flavor of lavender is a coy undertone that accentuates the spiciness of the cinnamon.
Clove
The subtle astringency of lavender blends well with the strident spiciness of cloves. Add a sprinkle of dried lavender buds to wine or cider along with dried cloves and your favorite mulling spices for a distinctive autumn or winter holiday treat.