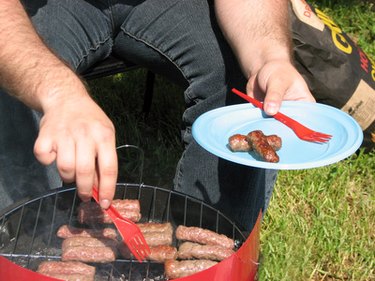 Surprise your husband with a birthday celebration he won't forget. Whether you plan an intimate celebration for just the two of you or a party with dozens of people, make sure your surprise contains elements your husband will truly appreciate. Consider his favorite locations, party style or hobbies and incorporate them into your party plan. Enlist the help of friends and family members to assist with your efforts in pulling off a big surprise.
Driveway Tailgate Party
Throw a surprise party right in your own driveway. Ask friends and family members to carpool to your home and to park inconspicuously nearby. Arrange for their trunks to be loaded with coolers full of barbecue-ready foods and beverages. Instruct drivers of the other cars to pull in to the driveway and "ambush" your husband as he gets out of his car after coming home from work. Roll your grill into the driveway, pop open the trunks, and begin an impromptu tailgate party in celebration of your husband's birthday.
Stadium Jumbo Screen Message
For the sports fan, arrange a trip to a stadium game where a birthday message will display on the jumbo arena screen, purchasing tickets in advance. Most major sports arenas provide this service for a fee, which can be arranged and paid for ahead of time. Surprise him with the tickets and a trip to the stadium, or let him know ahead of time that you will be celebrating his birthday at the arena, but keep the birthday message as the surprise. Invite friends to attend if you wish to share the event with others. Be sure to have a digital camera on hand to capture the moment and set your television to record the game so he can relive the moment and show it to his buddies at home.
Surprise Getaway
Plan a secret vacation, and surprise the birthday boy at the airport or destination. Arrange with his boss for time off, if needed, or make it a weekend trip. Send him on an errand while you pack his suitcase and load it into your car. Tell him you have an appointment, and then head to the airport or destination. Or have someone ask the birthday boy to drive her to the airport or call with an emergency situation at a location within driving distance. When he arrives, you will be waiting with plane tickets or room keys to surprise him with his birthday getaway.
Hobby Themed Party
Throw a surprise party that celebrates a hobby for which your husband holds a passion. An avid hunter may enjoy being surprised with a party thrown at a lodge where the rustic decor includes hunting trophies and the menu consists of wild game. For the gaming fan, ask friends to show up unexpectedly to participate in a home video-game tournament, complete with finger foods and prizes for the winners.