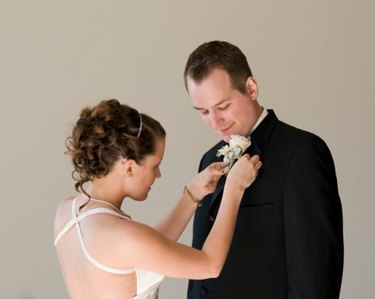 Boutonnieres add a touch of color to the lapel of a man's jacket. Traditionally, men wear boutonnieres as members of wedding parties, or to a formal dance or prom. EmilyPost.com instructs men to wear boutonnieres pinned to the left lapel at the buttonhole, with the stem down. Floral designer Charles Griner reports in his book "Floriculture: Designing and Merchandising" that carnations and roses are the most popular choices for boutonniere flowers, though you may use other options.
Roses
Rose boutonnieres coordinate with roses in a bride's bouquet or a dance partner's corsage. In a wedding, use one color, such as white or red, for the groom and a different color for the groomsmen and ushers, or match everyone. Rose boutonnieres are usually made with a single rosebud or small blossom, a spray of greenery and perhaps a little baby's breath.
Carnations
A simple carnation with a spray of babies' breath makes an inexpensive boutonniere. Choose baby carnations for a smaller boutonniere. Carnations can be died almost any color to coordinate with the event colors. For a fancy look, fringe the edges of the carnation with sharp scissors.
Orchids
Orchids add an exotic touch to a tropical or summer-themed event. Choose small blossoms and pair with tropical ferns. Orchids are fragile and don't keep well, especially in the heat, so use them for brief events, such as a wedding ceremony.
Herbs
Lavender and rosemary, which bloom with purple flowers and silvery foliage, make attractive understated boutonnieres. In Croatia and some other Serbian countries, rosemary boutonnieres are traditional for weddings. Rosemary was once thought to ward off evil spirits, protecting the wedding celibrants.
Alstromeria
Available in a variety of colors, alstromeria is inexpensive and lasts a long time. Pair one or two small blossoms with a lacy fern and coordinating ribbon.
Thistle
For a Scottish wedding, a purple thistle blossom, the emblem of Scotland, makes an unusual but appropriate boutonniere. You may have to special order these blossoms in advance.