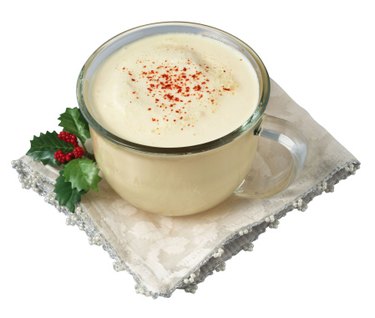 Eggnog is a common drink served during the holiday season. Traditionally, eggnog has been served as an adult-only drink containing alcohol, but alcohol-free recipes are gaining in popularity. Children, the elderly or even the health-conscious can have their share of eggnog for the holiday season. Eggnog can be served in a variety of glasses from casual parties to the most elegant party in town.
Martini Glass
Serve eggnog in a martini glass for a posh look. Sprinkle nutmeg on top of the eggnog and finish it with half a stick of cinnamon as a stirrer and for added spice.
Punchbowl
For a large group or party, serve eggnog in a punchbowl. The punchbowl allows guests to get their own drinks and serves as a nice display. Add whipped cream and cinnamon to the bowl and lightly swirl it into the eggnog, leaving a visible swirl. Use small shooter glasses for guests to drink from.
Shot Glasses
Using small shot glasses is a great way to have guests sample your eggnog recipe. Mix cinnamon and allspice together, and put it on a plate. Store shot glasses in the freezer for 20 to 30 minutes. Remove glasses from freezer and dip the tops of the glasses into the cinnamon and allspice mixture. Pour eggnog into glasses and serve.