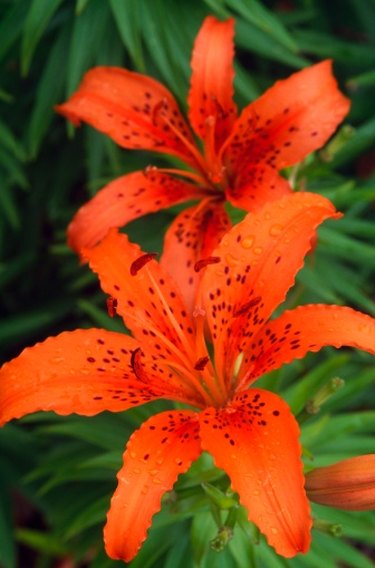 While placing nectar feeders in your yard or garden is the simplest way to attract hummingbirds, you can also attract them naturally and add some color and fragrance to your landscape at the same time. These tiny birds are ultimately attracted to the color red followed by other bold hues. Unlike butterflies, the birds don't smell well, and fragrance alone won't do the trick. The birds save time and energy locating nectar by color instead.
Daylily
The daylily (Hemerocallis) is a hummingbird favorite and blooms during the spring and summer months. It grows 2 to 3 feet tall and is hardy in most USDA zones, from 3 to 9. Flowers come in yellow, orange, pink and burgundy. Look for the brighter orange or deep burgundy to lure hummingbirds. It thrives in well-drained soils high in organic matter, so compost is a good option here. Place them in full sun to partial shade and you can use fall or spring cuttings to plant new flowers.
Bee Balm
Bee balm (Monarda didyma) is a mint plant plant that grows to about 3 feet tall. It grows vigorously and can spread well beyond 2 feet. Keep it happy with a spot with full sun to light shade and moist, well-nourished and drained soil. Flowers bloom for several weeks during the summer, and hummingbirds are known to frequent them.
For best results, look for red varieties like "Gardenview Scarlet." Hummingbirds will show up earlier for the red hue, but if you don't mind being patient, you can have more freedom with the color you choose. The small birds will eventually come around. For best blooming and shape the following season, prune half the plant back toward the end of the season.
Garden Phlox
Garden phlox (Phlox paniculata) is also known as meadow lox. It grows well in USDA zones 5 to 8. The flowers are set above the leaves, so hummingbirds have convenient access to their food source and they can move between blossoms quickly. The phlox likes average to well-nourished, moisture-keeping soil in a sunny area, though it will also do well in partial shade. For optimal blooming next season, snip off the dead flower heads when they've dried up. This plant is susceptible to mildew, so give plants room for air circulation. Try not to water the leaves, and if your plant does suffer infection, cut off the infected areas.
Native Wildflowers
Wildflowers native to your area make excellent hummingbird plants. The birds recognize the plants, and they produce the best quality nectar because they're best adapted to your climate and soil conditions. Look for native plants with bright red, pink and orange blossoms. Flowers should have open blossoms and be on the outside of the plant so hummingbirds can easily get nectar without having to hit their wings against anything. Provide space around the flowers for the birds to move around.