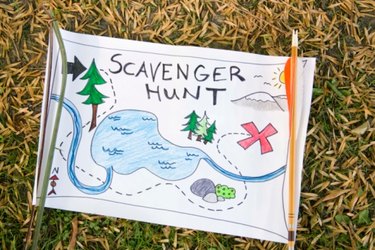 A scavenger hunt is a popular party activity that involves performing a list of tasks or finding all of the items on a list before anyone else does. You can hold a scavenger hunt virtually anywhere, indoors or outdoors. Determining the ideal prize depends on what kind of occasion you're celebrating.
Prizes for Kids
When having a scavenger hunt for children, keep the prizes small. Candy, small toys, books or certificates for ice cream are good prizes for kids that are both fun and inexpensive, according to Families with Purpose. You might also create a cardboard treasure chest filled with chocolate gold coins for that extra creative touch.
Romantic Prizes
A scavenger hunt can bring playfulness into a relationship for couples looking to spice things up. A chilled bottle of champagne, a bouquet of flowers, jewelry and romantic notes or coupons are all thoughtful ways of treating your partner. You can even go a racier route and have the hunt end with you dressed in a sexy outfit.
Holiday-Themed Prizes
With family and neighbors getting together, holidays are perfect opportunities to hold a scavenger hunt, and you can have prizes that follow the holiday theme. For example, on Halloween, besides the obvious candy prizes, you can award costumes, a framed photo of the winner participating in the hunt, spooky jewelry or even a night out on the town, suggests the Scavenger Hunt Ideas Blog. A Christmas scavenger hunt could feature decorated ornaments, scented candles or homemade cookies.
Charity Prizes
A charity scavenger hunt is a good way for nonprofit organizations to involve people in the community in a fun activity while also teaching them about the issue the organization advocates. Find a local merchant to sponsor the event and award the winner a framed certificate indicating that the sponsor has donated a certain amount of money to the charity in the winner's name, or simply have the merchant donate a prize and give the merchant ample advertisement in awarding the prize.