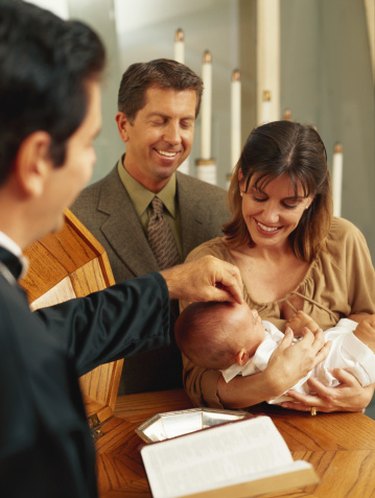 For many Christians baptism occurs at a very young age, marking their introduction into the faith. However, some children become baptized when they're older or well into their teenage years. The age difference changes the type of gifts appropriate for the child. Friends and family have a number of gift options for an older child's baptism.
Personalized Nameplate
Personalized nameplates feature a number of metal choices from nickel and silver to stainless steel, depending on your budget. Some buyers choose a glass plate instead of metal. Many plates feature the opportunity to engrave the date, a Bible verse and a Christian-based graphic such as a cross or halo along with the personalization. Buyers find these gifts from online outlets, mail-order gift outlets and specialty engraving stores.
Christian Video Games
Another gift option includes Christian video games, a solid choice for older children who also have a love for video games. Many of the top video game systems such as Nintendo, Wii, Xbox and Sony PS2 have a number of Christian-themed games available, including the "Left Behind" series. Also, a number of companies such as Wisdom Tree Games and the Rebel Planet produce games for personal computers. Not all games feature simply entertainment value, however. This video game market also contains a selection of educational Christian games, appropriate for children a little too young for teenage video games.
Multimedia Bible
An interactive version of the Bible makes a special gift option for older children for their baptism. With the purchase of a Bible on CD or DVD or for an eBook player, a number of options open. The child has the opportunity to download a Bible on CD to his iPod or other MP3 player. A DVD version of the Bible often contains filmed reenactments as special features. Customers also have the option of choosing any version of the Bible and whether they want both the Old and New testaments.