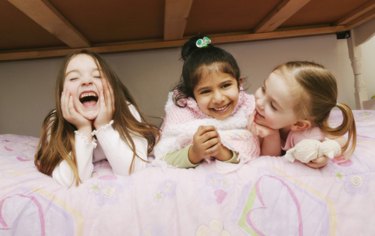 The food at a sleepover is one of the highlights of the evening, but base your menu on your guests' preferences. For young children, it's best to stick with predictable favorites, such as pizza or sandwiches. Older children are generally more willing to try new things. Ask parents about allergies beforehand and be sure to consider safety if the children will be cooking with you. Older children can use a griddle or cut fruit safely, but stay close by to offer a helping hand.
Little Chefs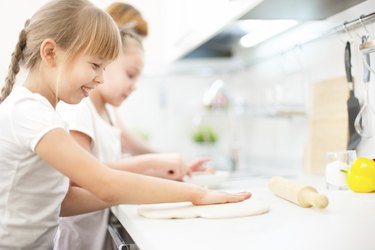 Kids love helping in the kitchen, especially at a sleepover. To save your sanity, though, keep it simple, and prep ingredients ahead of time. For example, offer small balls of pizza dough, pizza sauce, cheese and pepperoni, and let your guests make their own personal-size pizza. Have breakfast for dinner and offer a basic pancake batter with add-ins, such as blueberries, chocolate chips, banana puree or diced apples.
Go for a Dip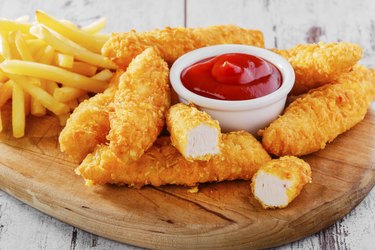 Even picky eaters will try new things if they're offered with a dip. Serve chicken tenders with ketchup, honey-mustard sauce or barbecue sauce. Offer cut vegetables with ranch dip or hummus. Round out the meal with sliced fruit and a dip made from yogurt or cream cheese and orange juice. Older children and teens enjoy fondue. Try bits of cooked meat with cheese or a dessert fondue featuring sliced fruit, marshmallows, graham crackers or pound cake dipped in melted chocolate.
Choose a Theme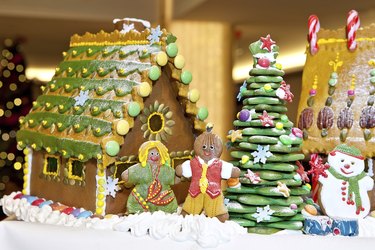 Sleepovers can range from casual, last-minute get-togethers to more structured events. For a special sleepover, choose a theme. For a '50s drive-in theme, serve sliders; fries or onion rings; and old-fashioned milkshakes. The holidays and seasons can often dictate the type of theme you'll choose. In the fall, for example, opt for hearty soups and apple dishes or serve up some spooky Halloween grub. During the winter holidays, decorate gingerbread houses and serve simple finger foods as you work.
Around the World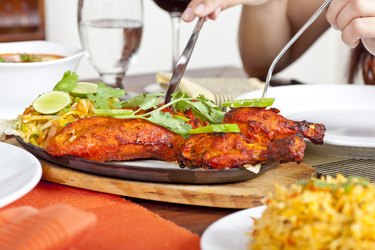 For more adventurous palates, try a multicultural night. Serve up Chinese takeout. Sit on thin pillows on the floor and don't forget the chopsticks. Tie the menu to a favorite movie. For example, watch "The Little Princess" with preteen girls, along with curry, tandoori chicken or dim sum. Offer a taco or burrito bar with shredded meat, cheese, vegetables and several choices of salsas.