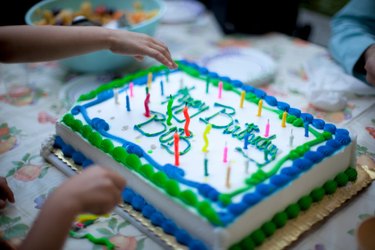 Turning 43 is not a milestone birthday, but still deserves a special celebration. Whether arranging a birthday party for a loved one or yourself, make 43 special by gathering a group of friends and family. Take the likes, interests and personality of the birthday honoree into consideration. From a fancy dinner at an upscale restaurant to a laid-back house party, you'll find something to suit your interests.
Game Party
In a throw-back to younger days, base the party on games. Choose from a wide variety of adult party games, some of which provide clean fun, while others have more of an edge. Hold the party at home or rent out a room at a local recreation center so you'll have lots of space. If guests are not acquainted, play icebreaker games like Three Truths and a Lie. Each guest tells three true statements about herself and one lie. It's up to others to guess the lie. Have the entire group play, like trivia, or break up into smaller groups to play board games. Include game-themed party decorations for an added touch.
Birthday Trip
Instead of a celebration that lasts for only a few hours, take a birthday trip with a small group of friends. You could either make it a weekend adventure so people don't have to worry about taking off of work, or plan several months in advance for a week-long vacation. Be sure to have one day entirely planned by the birthday honoree so she gets a say in what the group does. Trips can be tailored for all types of interests, from secluded camping in a state park to hitting a major city for a day of shopping.
Night on the Town
For those who enjoy a night on the town with friends, gather at an upscale local restaurant. Ask for a private room if the party is large and if the restaurant offers special birthday packages. For restaurants with a dress code, include this fact on the party invitation. After the meal, plan to do something together as a group, whether it's relaxing together at a lounge, taking in a live theater event or doing something daring like bungee jumping at a local fairground.