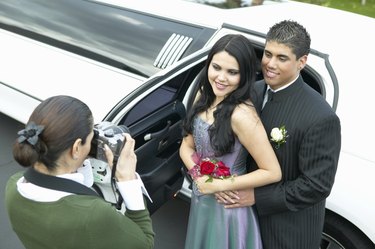 Prom night is a special occasion that typically requires months of planning for prom-goers and prom organizers. It is generally the responsibility of the prom committee, hosts or organizers to plan the prom menu and decide what type of foods will be served. Although there are only four major approaches to consider for the prom menu, according to The Prom Planning Network; there are a wide range of foods you may consider serving.
Buffet-Style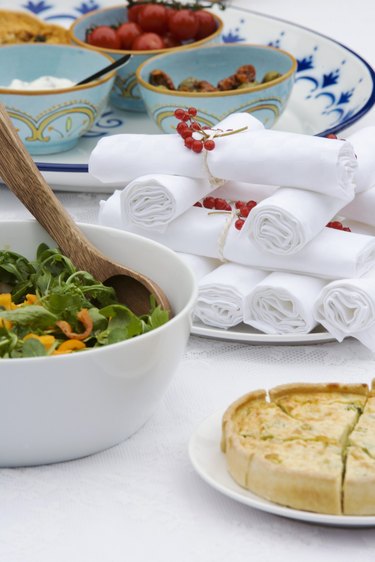 A buffet-style prom menu may be an option for proms where there is limited seating or where there's a smaller budget, since buffets are typically the least expensive approach, according to The Prom Planning Network. At a buffet, prom-goers serve themselves from a variety of cold, warm and hot foods. Some options include tossed green salad and Caesar salad with different toppings (olives, peppers) and dressings (ranch, blue cheese, french); fresh chopped fruit salad (pineapples, grapes, melon, apples); platters of different cheeses (Swiss, cheddar, mozzarella, Monterey jack, brie); varieties of fresh or cooked vegetables (carrots, mushrooms, broccoli, celery, asparagus); cold meat tray (turkey, ham, roast beef, salami); cooked meats (chicken fajitas and sweet and sour meatballs); side dishes (french fries, Cole slaw, pasta salad, potato salad); and desserts (cookies, cupcakes, pie). You may also consider serving barbecued foods or setting up a taco bar.
Family-Style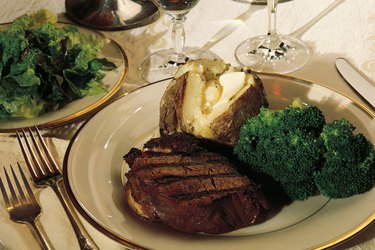 A family-style prom menu may be an option for smaller prom venues. With this approach, various food items are brought on platters to each table of seated guests, and prom-goers then serve themselves by passing each platter around. The Prom Planning Network says this is the second-least expensive prom menu approach. Some food options for this menu includes an entree of steak, roasted chicken, shrimp or ribs; side dishes such as mashed potatoes, beans, rice, potato salad, macaroni salad and baked potatoes; cooked vegetables such as green beans, corn, peas and sweet potatoes; and desserts such as chocolate cake, cheesecake and apple pie.
Finger Foods and Appetizers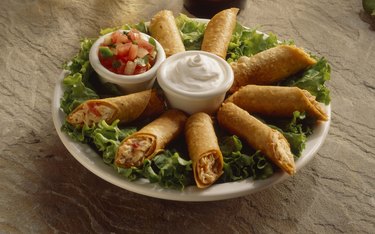 A prom menu consisting of finger foods and appetizers is an option for larger gatherings. Many people may choose this option because a larger number of guests can be served in the least amount of time, says The Prom Planning Network. The cost of this option depends largely on the types of foods served. Some foods you may consider serving include, mini burgers made with ground turkey or beef; mini quiches made with cheese and grape tomatoes; tortillas served with cheese, refried beans, olives, salsa and guacamole; chicken strips or nuggets, french fries, fried ravioli, chicken or shrimp egg rolls, cold sandwiches, vegetable quesadillas, deviled eggs, grilled vegetable skewers, cheese and crackers and Buffalo wings. Fruit skewers, brownie bites, cupcakes, truffles and lemon squares are some dessert foods you can add to the menu.
Sit-Down Meal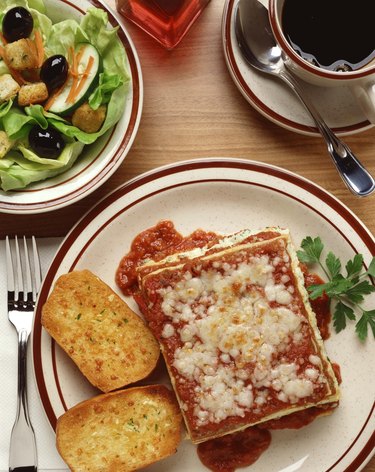 A sit-down meal — which requires the most formal prom food menu — may be an option for small gatherings or large venues that can accommodate many tables and chairs. Because this option requires that about three courses be served to the table by servers, it is generally the most expensive, says The Prom Planning Network. Some options for a sit-down meal include, a main course (meat/side dish/vegetables, lasagna, baked ziti, pot roast); soup (vegetable, broccoli and cheese, tomato, chicken and rice); dinner rolls or bread; salad (green tossed or Caesar); and dessert (cake, pie, cobbler).