A 75th birthday commands attention as a life accomplishment. Surround your 75-year-old with friends and family and enjoy a menu worthy of the celebration. Select dishes according to birthday party theme or according to the season during which the birthday occurs. Make it a family day or weekend, enlisting help to prepare a memorable and delicious meal. With attention to details and organized preparation, you will please the celebrant and guests with a menu for a beloved birthday person.
Birthday Menu Theme
The seasons of the year offer ample inspiration for a delectable and appropriate 75th birthday party menu. Gather dinner or luncheon ideas, for instance, for an autumn-theme menu. The website, Epicurious, suggests a fall menu featuring foods with gentle spices, root vegetables and sweet and savory flavors. Announce your party's autumn theme on invitations with images of colorful autumn trees.
Birthday Menu Dishes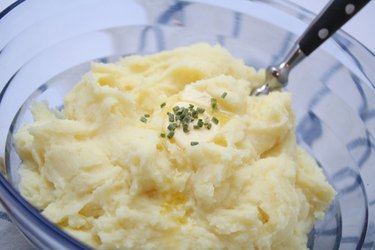 You and your guests want to make a 75th birthday celebrant comfortable, happy and safe with the autumn menu you choose. Select foods she can easily eat and digest. Take into consideration any dietary guidelines you should meet. Serve a warming artichoke soup followed by a main course of stuffed acorn squash, green bean casserole, mashed potatoes and chutney. Serve bakery-fresh rye or pumpernickel bread with the main course. Satisfy your birthday person with a birthday apple pie for dessert. Serve a range of beverages for your guests' and the celebrant's pleasure. Include soft drinks, coffee and tea, chilled white wine for dinner and brandy for after dinner.
Birthday Menu Preparation
Prepare multiple lists broken down according to what you can buy as early as possible and what you should try to purchase the day before and the day you cook. Make shopping lists a week or two in advance of the birthday party. Shop for beverages as soon as you like. Most fall vegetables stay fresh for a few days, so you can purchase potatoes and squash a few days in advance of the party. Buy fresh green beans, artichokes and chutney the day before your party. Buy bread the day of the event. Refrigerate soda, water and wine the day before the party.