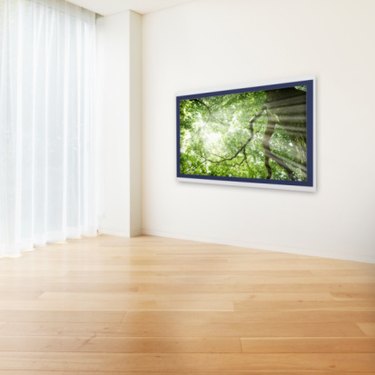 Nobody ever said you could only hang curtains on the windows. In fact, dividing a room with curtains can enhance your interior design by forming gentle barriers while still letting light through. Use these curtains to divide large rooms in your house, create separate living areas in a studio apartment or give privacy to a shared space. With some basic sewing skills, you can cut much of the cost by making these curtains yourself.
Rods
Probably the most common way to divide a room with curtains is to hang them from a rod that stretches across the length of the room near the ceiling. For narrow spaces, a simple tension rod or shower curtain rod may be all the support the curtains need. In larger rooms, attach a rod to the ceiling with hooks, or design your own makeshift curtain rod using airline cable and tum-buckles, both of which are available for a reasonable price at most hardware stores. Attach a curtain that flatters your decor across the area you wish to keep separate.
Hospital Track
Hospitals have become masters of the floor-to-ceiling curtain, so try adding a hospital curtain track in your own ceiling too. These tracks will ensure that the curtains can easily slide open and shut for quick room transformation. And if the white, waffle-like fabric reminds you of being sick, don't hesitate to replace the standard curtain with one that is more suited to your taste.
Partial Divider
Instead of hanging curtains that stretch all the way from one wall to the next, use them to create a partial barrier or to frame one area of the room. For example, hang a few feet of curtains on opposite walls of a studio apartment to help separate the living area from the sleeping area, which helps divide the space and creates a feeling of enclosure without slicing the size of the room in half.
Framed Drape
Curtained dividers don't have to span the entire height of the room. For sleeping privacy, spread a single, eye-catching drape across the foot of a four-poster bed frame. Alternatively, hang a curtain from a freestanding metal frame, and place it strategically to separate two parts of a room.
Fabric Panels
Give your room an artsy feel by painting a single, simple design across several narrow fabric panels. Hang the panels a few inches apart across the area you wish to divide. The panels will help divide the space and screen views while the gaps between them will allow for a feeling of unified space. If you need ideas for a design, try Chinese letters, a Japanese cherry tree or a cluster of simple flowers. Or keep it easy by hanging solid color fabric panels.