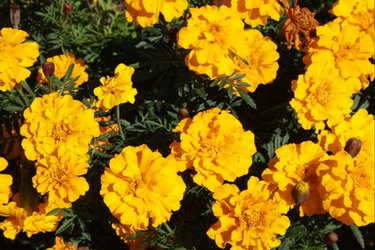 Gold flowers bring a luxurious, warm splash of color to the home garden. Whether you are growing annual or perennial flowers, plant an interesting variety in form and size to diversify a limited color palette. Additionally, keep in mind that cultivars of your most adored flowers often bloom in unexpected colors like gold.
Lantanas
Lantanas are grown as annuals or perennials that perform well in warm temperatures. Blooming from spring until frost in warm colors, the "new gold" cultivar produces an abundance of dark-gold flowers and grows to a height of 2 feet. Lantanas have a mounding habit and enjoy full sun exposure in any slightly acid, well-drained soil. The coarse green foliage emits a strong scent, so consider that when selecting your planting site.
Marigolds
Marigolds (Tagetes) produce a variety of gold-hued flowers. The "antiguas" cultivars display blossoms in a variety of hues including a saturated gold, oranges and yellows. "Crush" in the color "papaya" is another variety, which exhibits vivid gold flowers. These cultivars belong to the African marigolds species (Tagetes erecta), known for their large double flowers. Often referred to as American marigolds, these flowers reach a height of up to 3 feet, with the antiguas growing 12 to 16 inches tall and the crush reaching a height of 10 to 12 inches. Marigold plants prefer full sunlight and well-drained soil high in organic content.
Fernleaf Yarrow
Fernleaf yarrow (Achillea filipendulina) is an herbaceous perennial plant with cultivars that produce gold-hued flowers. The cultivar "coronation gold" is a hybrid with clustered gold/yellow flowers, while the hybrid "schwellenberg" also produces gold/yellow flowers. Fernleaf yarrow provides added interest to your home landscape with blue-gray foliage. This flowering yarrow plant reaches a height of 4 feet and thrives in full sun exposure and well-drained soil.
Basket-of-Gold
Basket-of-gold (Aurinia saxatilis) is a perennial plant that produces clustered flowers in gold to yellow hues. Blooming from April through May, these perennials exhibit gray/green foliage and thrive in full sunlight. With tolerance to dry conditions and well-drained soil, basket-of-gold plants are well suited for use in rock gardens and bring extra interest into your home landscape by attracting butterflies, according to the Oregon State University Extension Service. Basket-of-gold flowers reach a mature height of 8 to 18 inches.
Daylilies
Daylilies (Hemerocallis species) produce large blossoms with a bloom span of a single day. Dead flowers are followed the next day by new blooms, according to the Oregon State University Extension Service. Though daylilies flower in a variety of colors including white, pink, yellow, red, gold and combinations of those, you can achieve the golden color you are looking for with the cultivar "Stella de Oro." With a bloom time of July through August, daylilies take on a mounding habit with green foliage. Daylilies thrive in full sun to partial shade, require well-drained soil and reach a height of 1 to 4 feet.