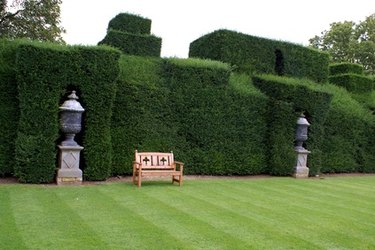 Shrubs planted as hedges create effective privacy screening and natural landscape barriers. Prickly and thorny hedges can also provide an element of security as well. Hedges need regular maintenance to keep them looking nice and to maintain the thickness of the foliage in the lower parts of the shrubs. Pruning is essential to keep the hedge's proper shape. For an effective privacy screen, you will need a type of shrub that grows thickly when trimmed.
Evergreens and Semi-Evergreens
Hawthorn varieties are very popular hedge shrubs, along with junipers such as blue rug juniper, incense cedar, mountain laurel, English holly, Chinese holly, Nellie Stevens holly, hemlock and arborvitae. These shrubs stay green practically year-round and maintain their leaves even in winter. Blue princess holly, emerald 'n' gold euonymus shrubs, dwarf English boxwood, daphne and other larger boxwoods are, for all practical purposes, evergreens. Plant them close together and trim them frequently to force the body of the shrub to thicken. They make an effective windbreak as well as a good privacy screen.
Deciduous Shrubs
If you plant shrubs that are deciduous, your shrub will become a little see-through for part of the year. One way to address this problem is to combine various deciduous shrubs to create a mix of colors and times of leaf fall. Burgundy ninebark, dwarf lilac, Onondaga viburnum, variegated red-twig dogwood and golden privet can be combined to create a nice, thick hedge with a variety of colors and textures. You can even add herbaceous perennials, ornamental grasses and annual flowers around the base of your hedge to bulk up the thickness of its lower section.
Dry and Wild
In western areas or rural settings where deer and drought can present a problem, shrubs such as the wax myrtle, yaupon holly, mountain laurel, Texas barometer bush, agarita, Texas barberry and evergreen sumac can make effective privacy screens. These are all native varieties that are hardy and don't just resist dry weather, but also grow fast and thick enough to resist damage by grazing wildlife.
Tall Hedges
If your area to be screened needs to be 7 feet to 8 feet high or taller, some naturally tall shrubs you should consider include serviceberry, viburnum, lilac, flowering quince and purpleleaf sand cherry. Also, most members of the arborvitae family, such as evergreen boxwood as well as yew variants, are capable of being grown to significant heights while maintaining a thick, leafy body.
Flowering Hedges
For a more colorful barrier, shrub rose varieties grow low and thick and can be shaped to create thick security barriers, thanks to their thorns. Other flowering shrubs that make good hedges include the lilac, flowering quince, Harry Lauder's walking stick, azalea, rhododendron, Chinese loropetalum and Japanese spirea.